The Denali Conquer Connector is a required package install to integrate Conquer Voice (formerly known as Denali) with Conquer Cadence. This connector is required to be able to Map Cadence Touchpoint Outcomes to Conquer Voice Dispositions.
Package links will be provided by your Conquer team.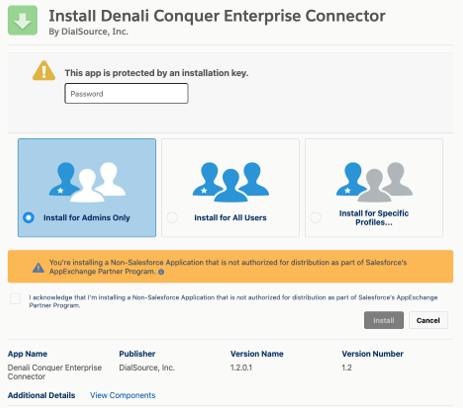 Note: Before installing the Denali Conquer Connector package, the Denali Managed Package and Conquer Managed Package MUST be installed before proceeding with the connector package installation.
Pre-Installation:
Before installing the Denali Conquer Connector package, verify that one of the DialSource Denali Managed Packages below is installed in your Salesforce org. You can verify this by navigating to Setup > Apps > Packages > Installed Packages.
DialSource Denali Enterprise


DialSource Denali Standard

Some fields (I.E. Version Number) may appear different if you have an earlier or later version of the package than what is shown here.
Note: If you do not have the most recent versions of these packages installed, contact your Conquer Customer Success Manager for an appropriate installation link. When reaching out, please also provide your Salesforce.com Organization ID to help us expedite the process.
Verify that your Salesforce org has been enabled to use Denali. Navigate to either the DS Management or DS Admin tabs from the App Launcher and verify that the tab loads correctly.
Note: If you see these tabs in the App Launcher but nothing loads, this means you have the package installed but your org has not been enabled on the Conquer backend. In this case, please contact your Conquer Customer Success Manager with this information and provide them your Salesforce.com Organization ID as well.
Installation:
Install the Conquer Managed Package and the appropriate connector package based on your instance of Denali. Follow the same installation steps described in Installing the Conquer Managed Package. Supported package combinations are shown below. Make sure Conquer and Denali Managed Packages are installed before installing the connector package.
DialSource Denali Enterprise:
Main Package:

DialSource Denali Enterprise

Connector Package:

Denali Conquer Enterprise Connector
DialSource Denali Standard:
Main Package:

DialSource Denali

Connector Package:

Denali Conquer Standard Connector