Inbound Call Routing Through Call Flows
An enhanced inbound offering from Conquer, Call Flows will help sales and service teams improve their inbound call routing processes through an easy-to-use call flow system that is scalable, flexible, and manageable.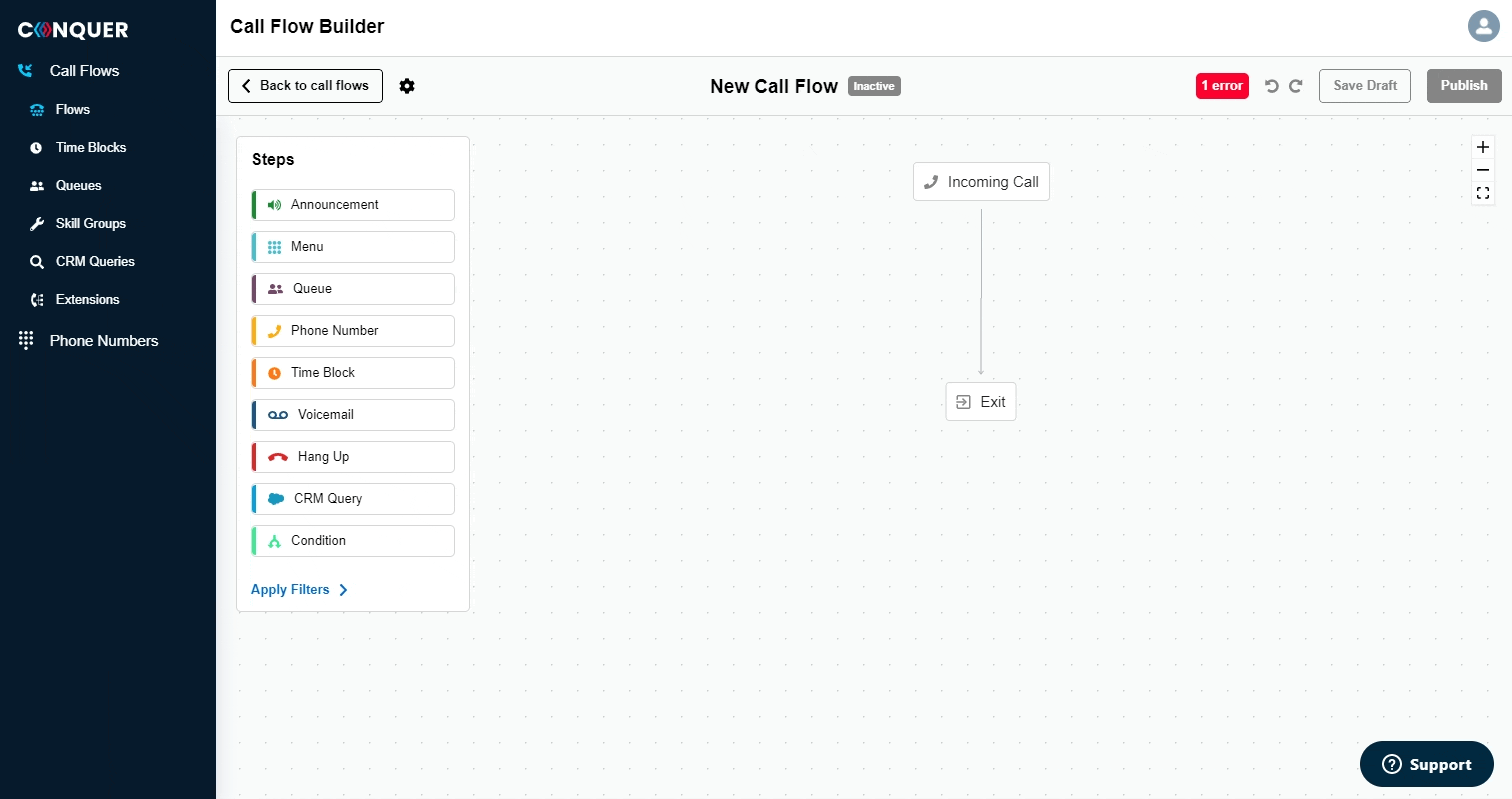 Gone are the days of asking your IT team to configure your phone system. Call Flows gives managers and admins the ability to:
Create call flows with multi-level menu options and custom key presses
Route inbound callers to various call flow points, such as conditional time blocks, voicemails, greetings, queues, and external phone numbers
Configure time-of-day options to appropriately route a call based on business hours, holidays, or business closures
Route calls to specific skill groups to appropriately serve the needs of the caller
Add custom CRM queries to track inbound calls to records in Salesforce (coming soon)
Through Call Flows, sales and service agents get time back in their day, empowered by intuitive automation for their inbound call processes, so they can focus on quality customer service and sales engagements.
Details
Call Flow Steps allow you to send your callers down a fluid path built by you and tailored to your needs using our visual flow builder with customizable menu key press settings.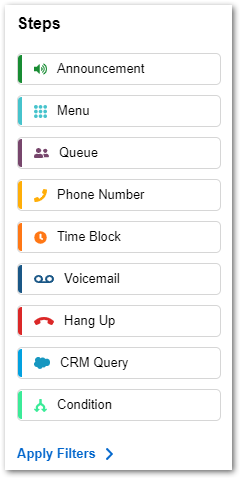 Announcements Inform your caller with updates or news by playing a pre-recorded message for your caller.
Menu Allow your caller to choose from a custom-made menu with the push of a button. Every Call Flow can even have nested menus.
Queues Send your caller to a queue where their call will be answered by first agent to become available. You can use Skill Groups to route calls to agents with specific skills.
Phone Number If your caller needs to transfer to a line outside your system, this step will make that happen.
Time Blocks Send your caller to separate steps based on established business hours or holidays.
Voicemail Delivered directly to email inbox for easy retrieval.
CRM Query Groups are a collection of single (not recommended) or multiple queries that can be used in a Call Flow to look up record data in Salesforce allowing the call to be routed based on the results.
Condition The condition step allows you to route a call flow in 2 different directions based on a defined condition.
For more information about Call Flows and these powerful new features, please contact your Customer Success Manager or head on over to our knowledge base. If you're logged into your Base Camp account, click "Follow" to automatically receive notifications when new articles are published!
Requirements
Call Flows is available upon request. However, additional configuration and setup is required after securing the purchase with your CSM. In order to take advantage of Call Flows, there are a few additional requirements:
Note: Before making a migration request to Call Flows, please consider that existing DIDs will not be migrated to the new Phone Numbers page. Migration has to be done manually at this time. As soon Call Flows is enabled for your organization, DIDs are managed through the new Phone Numbers page, and Inbound DIDs and Inbound Queues will no longer be available. We are working on a migration script to improve this process. As of now, larger organizations may want to wait for the automated solution.
After contacting your Customer Success Manager with your migration request, our development team will enable Call Flows for your organization. Then, Call Flows Conquer Voice Workspace will appear and both Inbound DIDs and Inbound Queues will go away. In order for inbound calls to be received, DID configurations will need to manually reconfigured.