You can access Notes from both the Cadence Utilities drawer and Cadence Actions on a Salesforce record by clicking Actions Dropdown and then clicking on Notes.
Overview
Notes are Cadence touchpoint notes that a user can log to the touchpoint while engaging with the Cadence Member to reference later. Users can also view a history of notes that have been previously logged on other touchpoints in the Cadence for a particular Cadence Member to familiarize themselves with the engagement history.
| | |
| --- | --- |
| From Cadence Utilities | From Cadence Actions |
| | |
Logging Cadence Notes
To log notes from Cadence Utilities, click on the Actions Dropdown and select Notes.
The notes modal will appear for you to start taking notes to the current touchpoint. Once you've entered your notes, click Save.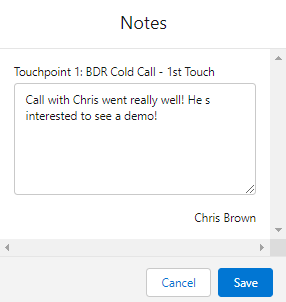 You can edit your notes by clicking on the Notes button again. Notes will remain in draft mode (editable) until the touchpoint has been completed.  At that time, they will become only viewable and no longer be editable.
If notes have been previously logged to other touchpoints to this cadence member, you will see a list of the notes that have already been logged as shown in gray above.