You can filter touchpoints in the Cadence Control Panel by the due date, touchpoint type, or cadence member by navigating to Cadence Utilities > Open Touchpoints > Filter Touchpoints.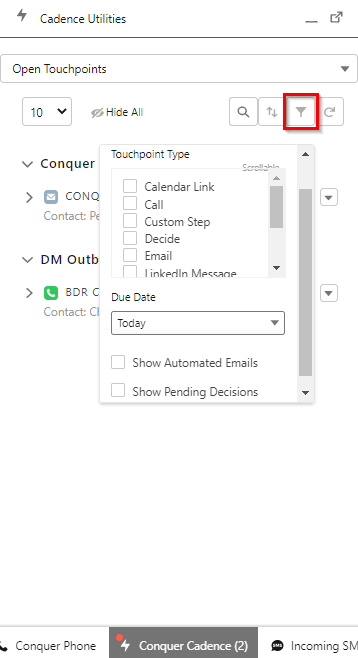 Filter your touchpoints to have a focused view of the touchpoints that you want to work on for the day. Just click on the filter icon at the top right hand side of the panel. Choose your preferred filtering option. Filtering will be immediately applied.  If searching by name, results will autofill as you begin typing.
You can filter by:
Touchpoint type: Calendar Link, Call, Custom Step, Email, LinkedIn, and SMS.
Information: WebEx Meeting.

Due date: All, Today (Default), Tomorrow, This Week, and This Month.

Show/Hide Automated Emails (Hidden by default).

Show/Hide Pending Decisions (Hidden by default).