Speed to Lead Call
If your org uses Speed To Lead and you have been assigned to at least one Speed to Lead stack, a clock icon will show up in the dialer next to the Report Issue button. When the clock icon turns red, a new lead has just become available to call via Speed To Lead. Click on the red Speed to Lead clock icon to immediately place a call to that lead if you are connected.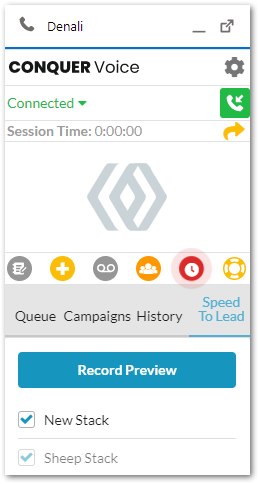 Viewing Stacks
Stacks are groups of agents to which a lead can be presented. Depending on how your admins have configured each stack, you might be able to see your assigned stacks by clicking on the Speed to Lead tab.
You may also be able to opt out of a stack by clicking the checkbox next to the stack name. However, since each stack is configured separately, you may not be able to see all the stacks that you are assigned to or be able to opt out of some stacks.
Record Preview
On the Speed To Lead tab there is a Record Preview button. If you click on it, an empty window will be presented. Once the window is open, clicking Record Preview shows additional information about the lead in this window.

Note: Some orgs might not have any preview data configured. The displayed information is configured by your admin. Please direct questions about this information to them. Additionally, information in the form is text only and is not clickable.