Overview
AI Battle Cards are pre-configured by your manager or admin to automatically deliver relevant topic-based information to you during your calls, based on key words or phrases that the person you are speaking with says during a call. This happens in real time as Conquer Voice analyzes your call for specific key words and prompts. At this time, Conquer Voice does not analyze your words, only the other person's. 
You can tell that Battle Cards are enabled in your environment by the presence of the blue "Open Battle Cards Panel" button in the Conquer Voice softphone, next to the Inbound Ready button: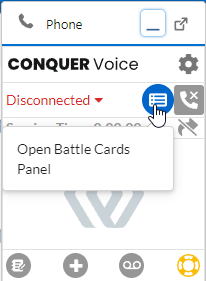 When you click this button, it will open the Battle Cards panel in the Lighting toolbar:

The Conquer Battle Cards drawer needs to be added to the Lightning toolbar by your Salesforce administrator in order for it to be available to you. If you do see the blue button but don't see the Conquer Battle Cards drawer, you are either in the incorrect Salesforce app, or your administrator has additional configuration to perform for the feature to be available to you. 
How to use Battle Cards on a call
If the automated system detects a keyword, the Battle Cards button will flash: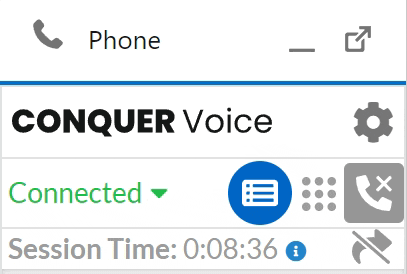 Click the button to open the Battle Cards panel. This will automatically minimize the Conquer Voice softphone, but you can pop the softphone back open again at any time. 
When the panel opens, your Battle Card will be there, populated with content created by your management team to help guide your on your call. The name of the Battle Card will have a flashing dot next to it:

Click the name of the Battle Card to display the content on the right hand side of the panel. You can mouse over the "i" icon in the upper right hand corner to see which category and which keyword prompted the Battle Card.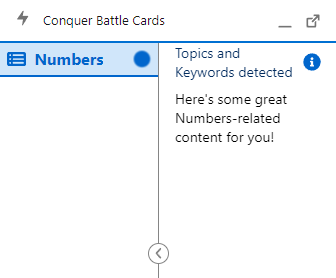 Click the left-facing arrow button in the middle to expand the Battle Card content into the whole panel:

Click the X next to the Battle Card name to dismiss it: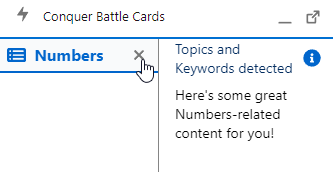 Battle Cards remain in the panel after a page refresh, so you'll want to dismiss them once you're finished with them to keep them from taking up space in your display.