Note: This feature is available upon request. Talk to your Customer Success Manager about enabling this feature for your org.
The Queues Dashboard is a queues management tool for tracking the inbound statuses of inbound queues, along with the agent groups associated with those queues. Use the Queues Dashboard to view an agent's position in a queue, idle time, offer availability, inbound ready state, connection status, and strike count. In addition, the Queues Dashboard can be used to promote an agent up or down in the queue. The Queues Dashboard can also be filtered and searched.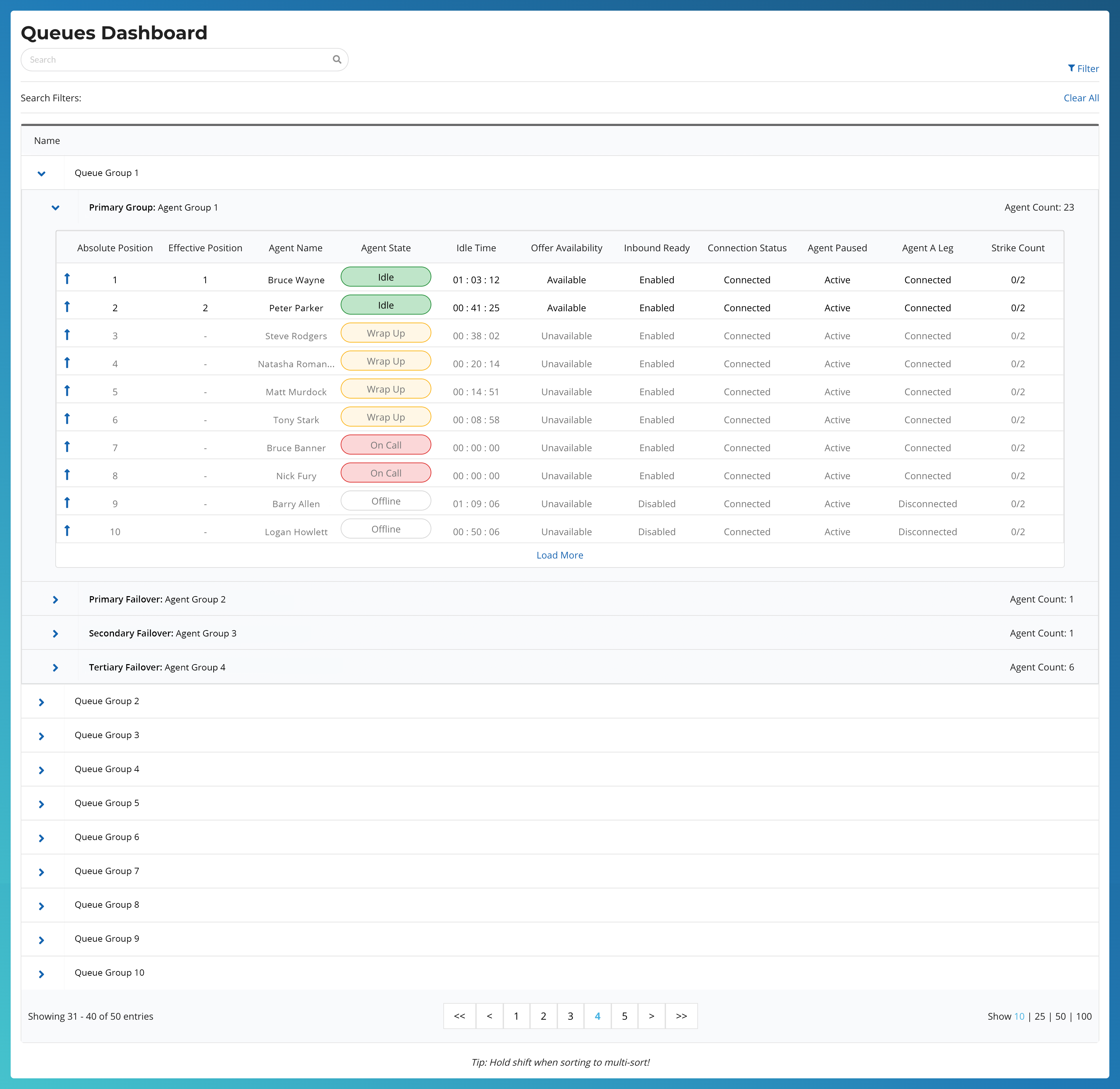 Queues
To view queues in the Queues Dashboard, be sure to have your Inbound DIDs set up in DS Management. See the guide for setting up Inbound DIDs.
Note: if you are using the new Call Flows feature, currently in beta, Queues are managed in the Conquer Voice Workspace.
To view agent groups in a queue, select a queue by clicking on the arrow icon at the far left side of the queue name. This will expand the queue and you will see the agent groups of that queue. All queues will have a Primary Group. If failover groups have been set up for the queue, you will also see the Primary Failover, Secondary Failover, and Tertiary Failover Groups of that queue.


To see the agents in an agent group, select an agent group by clicking on the arrow icon at the far left side of the agent group name. This will expand the chosen agent group and display all agents in that particular group.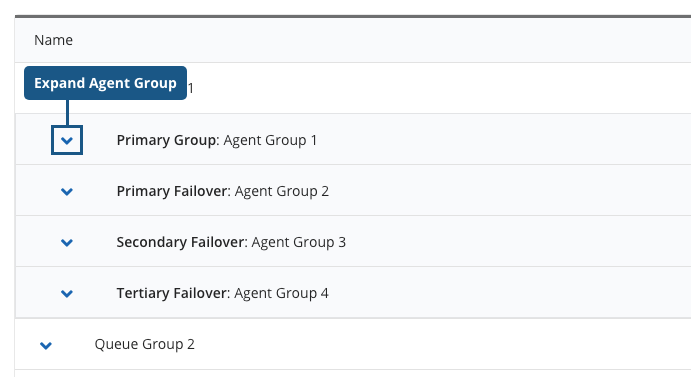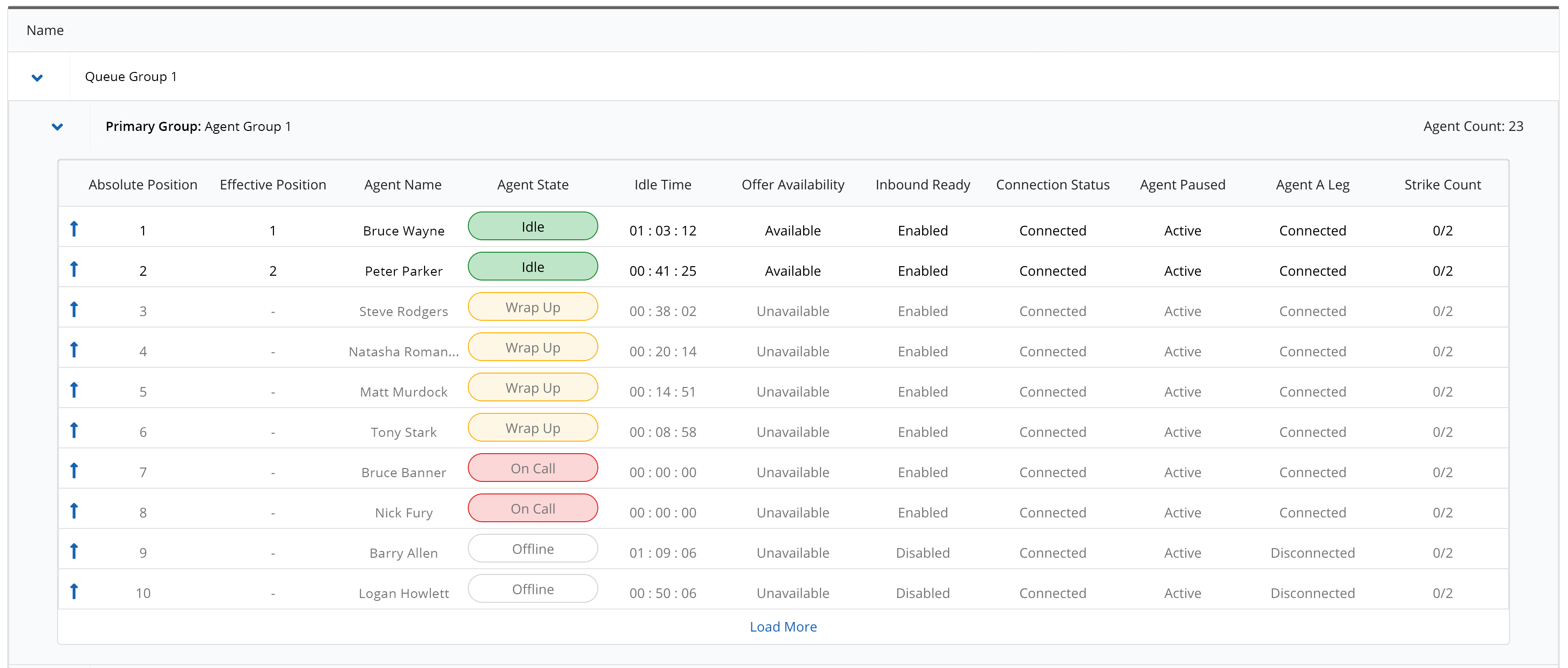 The agent group table contains the following columns:
Absolute Position - The position the agent holds in the entire queue
Effective Position - The agent's position in relation to other agent statuses in the queue. This position will fluctuate up and down based on the number of agents in front of them becoming available or unavailable, being promoted or demoted, etc.
Agent Name - The name of the agent
Agent State - Displays the current call state of an agent (Idle, Wrap Up, Ringing, Monitoring, On Call, Inbound-Locked, Offline)
Idle Time - The amount of time an agent has been idle. Previously, we only displayed up to the hour. Now, we also support days.
Offer Availability - Displays if an agent is available or unavailable to receive an inbound offer
Note: Offers are not available if an agent is in wrap-up. Offer availability is calculated as a combination of columns 7-11. Currently if an agent disconnects their A leg while in wrap up, queue dashboard shows them being "Offline" although the agent is actually still in "Wrap-up", therefore not available to receive offers.
Inbound Ready - Displays if an agent has the Inbound Ready switch enabled or disabled
Connection Status - Displays if an agent has a connection to Conquer Voice. To be connected

, the agent has to have an active window in their CRM with Conquer Voice open and has an active network connection. An agent will be

disconnected

if they go to another place in their CRM without Conquer Voice active or they don't have an active network connection.

Agent Paused - Displays if an agent has a paused queue or an active queue (only applicable to customers who have the Agent Paused feature enabled)
Agent A Leg - Displays if an agent is connected or disconnected to the telephony leg
Strike Count - Displays the number of strikes an agent has accrued