To add a new campaign, go to the Add Campaign button in the top right corner. The Add New Campaign modal will display the available configurations.

Campaign Settings
1. General
Campaigns are created from existing reports generated in your CRM (refer to the Admin Guide on Creating a Source Report). Once you have a source report, select it to create the campaign.
Note: Conquer Voice Campaigns support Salesforce "Formula Fields" which are created in Object Manager in the Salesforce Setup menu and exist on the object itself as a field. We do not support Salesforce "Row Level Formulas" that are built within the Salesforce Report Builder UI. In addition, source reports may not contain more than 500,000 records.
After selecting a report, map columns in the source report to campaign fields. The available fields contain the following: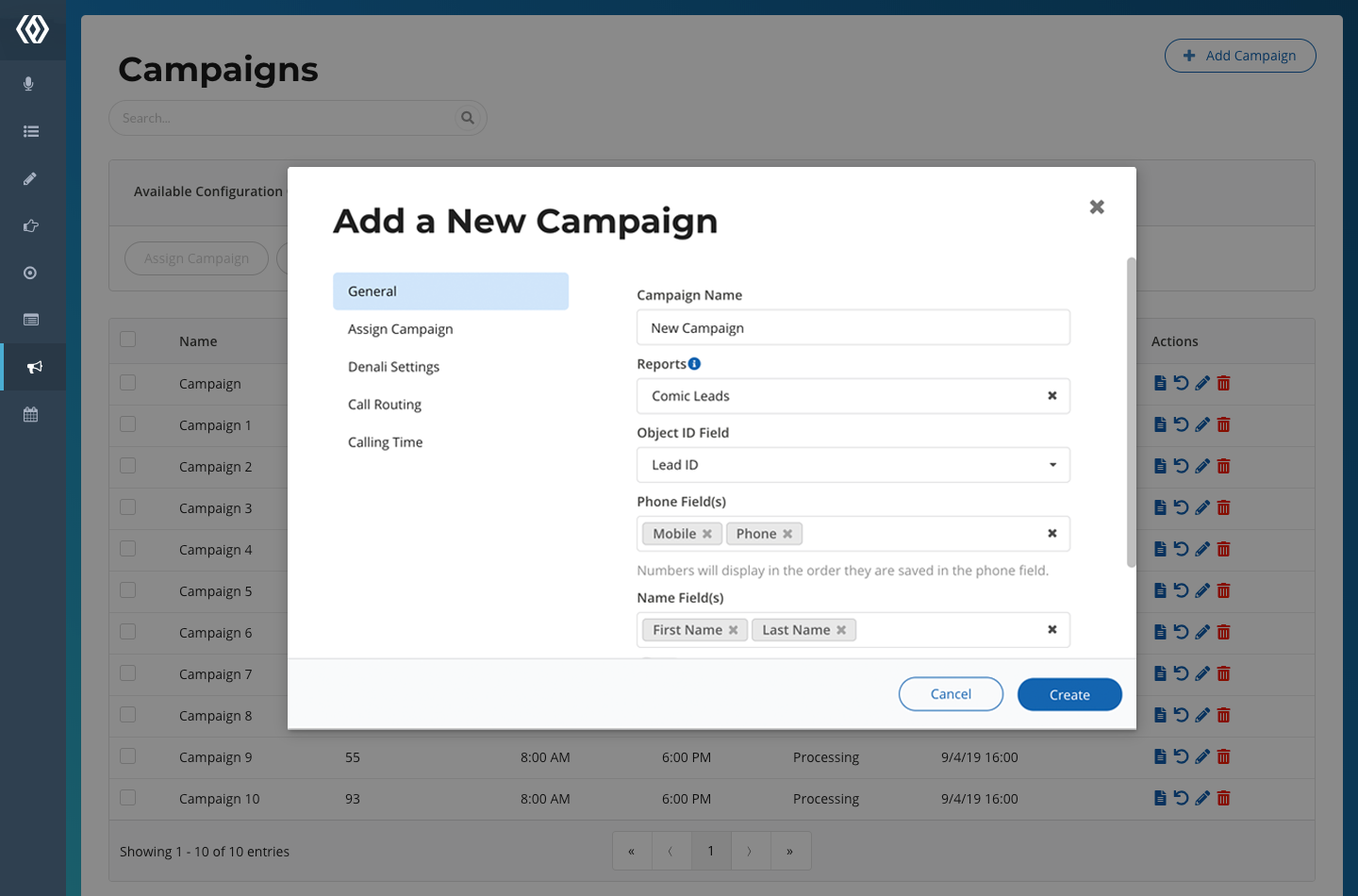 Once the fields are mapped, choose to enable or disable:
Note: When a record is skipped in a Campaign with Preserve Report Order enabled, it will not be eligible to dial within the same Campaign until the Skip Recycle Time expires. Keep this in mind when setting the value.
2. Assign Campaign
This screen is used to assign the campaign to individual Agents or Agent Groups.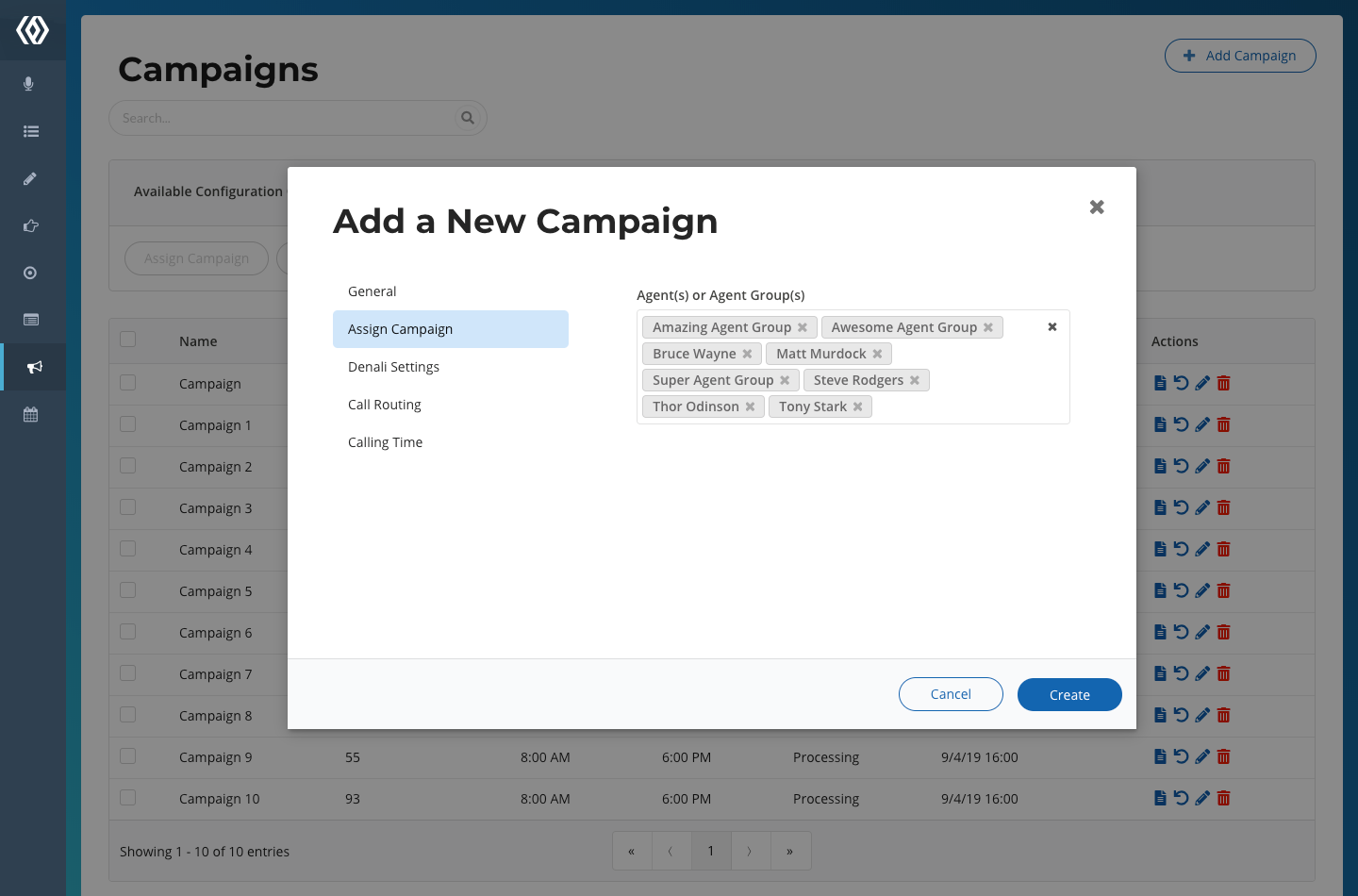 3. Voice Settings
The Voice Settings consist of the options agents will see in Conquer Voice: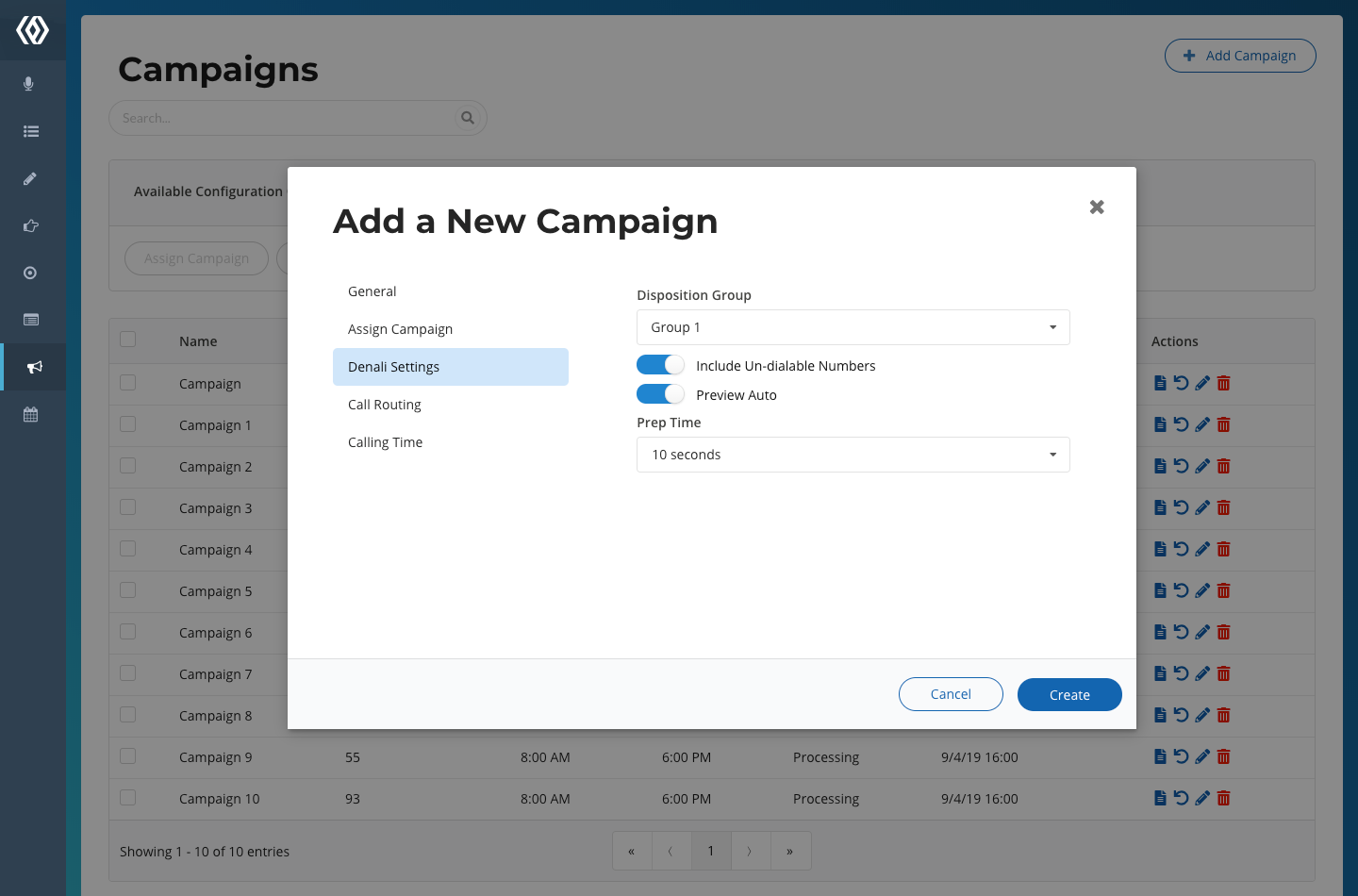 4. Call Routing
Call Routing provides the ability to set the number that will display to the prospect (the caller-id), along with setting the callback routes for that Regional ID.

Choose a Display Number option: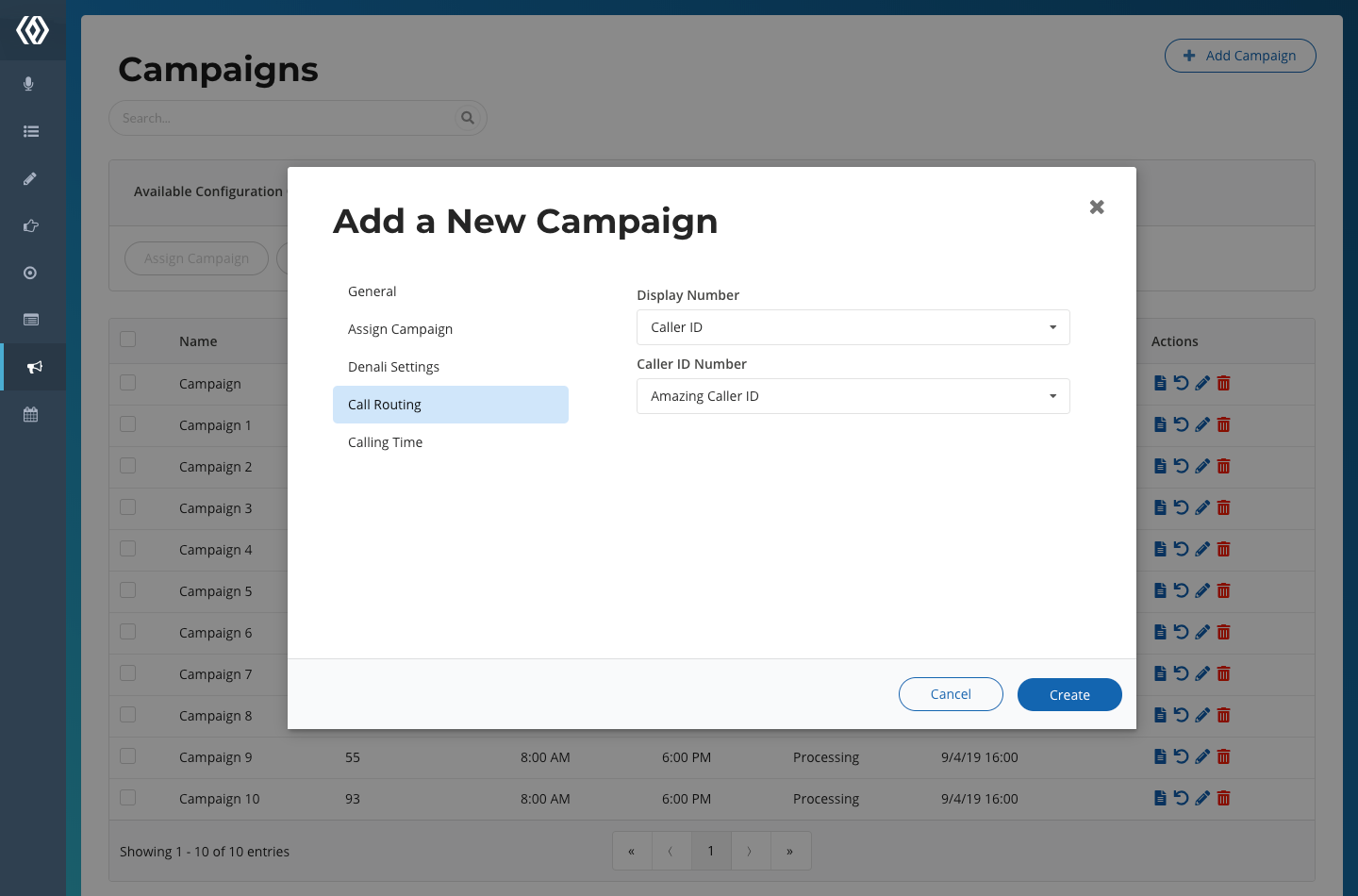 5. Calling Time
Setting the Calling Time will set the Start Time and End Time of the campaign. By default, the Start Time will be set at 8:00 AM and the End Time will be set at 6:00 PM. If the Start Time and End Time is not set on campaign creation, it will be created with the default time. The campaign times use the time zone of the prospect's phone number.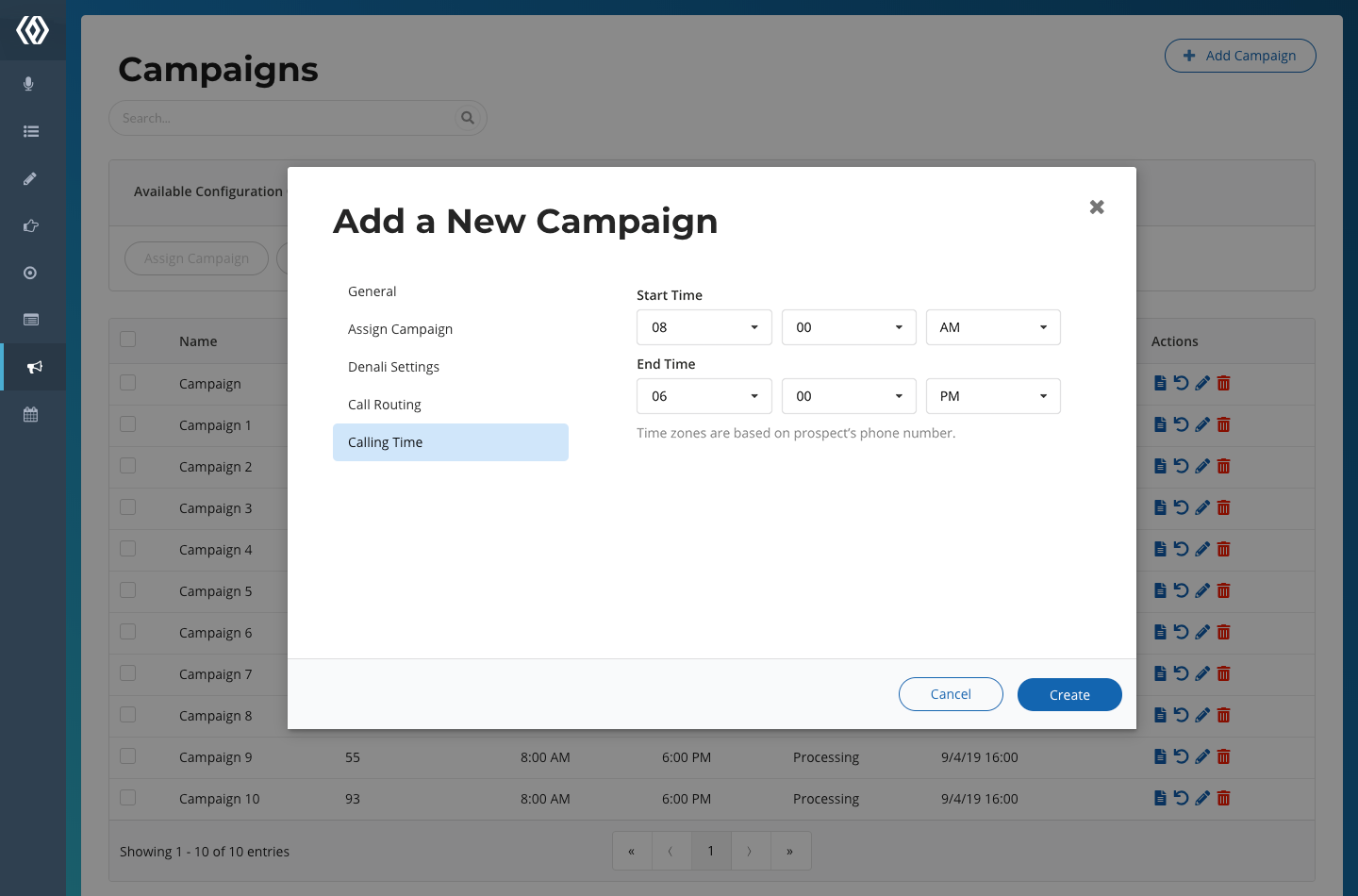 Once you've configured all the settings for the campaign, click Create to add the new campaign to the campaigns list.