Assigning Inbound DIDs to an Inbound Queue will cause the Queue settings to override any Inbound DID settings for Agent Group and Disposition Group. This means that if a DID that is set to ring to Agent Group A is added to a Queue that is set to ring to Agent Group B, all calls to that DID will ring to Agent Group B, not Agent Group A. So, Inbound Queues force multiple assigned Inbound DIDs to all use the same configurations set at the Queue level.
Note: Most clients don't need to use this feature as each of their individual DIDs have different configurations. If you're interested in this feature, discuss with your Customer Success Manager whether it's the right choice for your use case.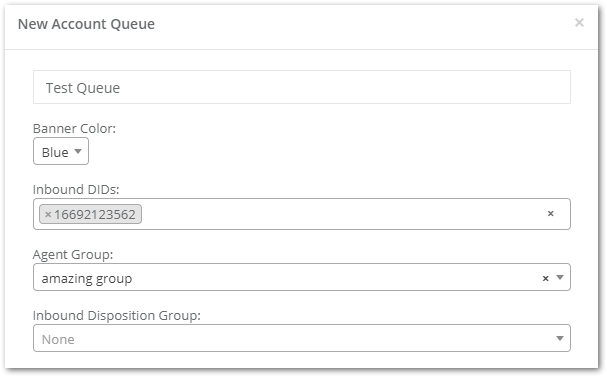 Click the "New" button to create a new Queue, then give the Queue a name, banner color, and agent group. Assign one or more Inbound DIDs to the Queue. If desired, assign a disposition group.

When an agent is presented with an inbound call from a DID that's associated with an Inbound Queue, the Queue banner will display above the DID banner.