From time to time a "Local Storage is Full" error might pop up in the dialer.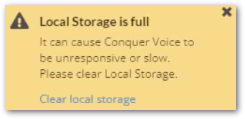 Follow these steps to clear local storage:
Open the Google Chrome Console by pressing F12 key.
Select "Application" in the console's top menu.
Select "Local Storage" in the console's left menu.
Right click the sites related to Salesforce, Lightning and Visualforce, then click clear to delete the local storage.