It's a good time to look over some best practices to manage Conquer Voice while being out of office, for a holiday season, paid time off, or any other reason you might not be at their desk for a period of time.
Voicemail Greeting
Recording an out of office voicemail greeting is a great way of letting people know that you won't be answering the phone. If you need a refresher on how to record a voicemail greeting, check out this article. Just remember, you have to be connected to Denali in order to record and listen to the recordings.
Also, you'll want to make sure to notify your manager the name of your out of office voicemail greeting so they can find and assign it.
Inbound Ready
At the same time, don't forget to turn off your Inbound Ready when you log out at the end of you last day before your vacation. This way your clients aren't waiting too long to leave you a message.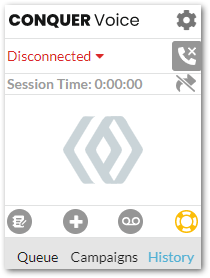 Call Forwarding
If you still want to receive calls while not being in the office, there is an option to turn on call forwarding. Details about this feature can be found in the following article: Call Forwarding. If this feature is not active for your organization, you can ask your manager about getting it enabled.