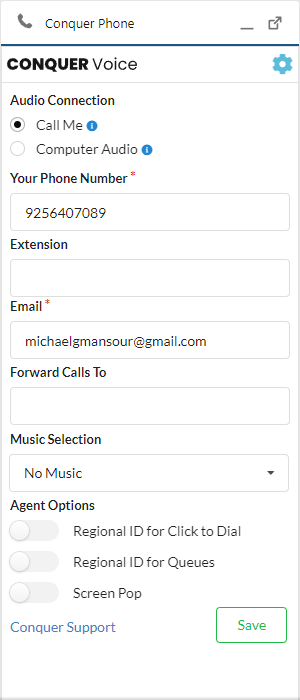 Call Forwarding is perfect for agents who are on the go!
We have added Call Forwarding to Conquer Voice to enable your agents to answer calls from prospects when they are away from their desk.
Some of our customers have expressed a loss in sales opportunities and productivity when agents miss incoming calls from prospects due to being away from their desks. This could occur when an agent is on break or attending off-site meetings or appointments.
Now, on Conquer Voice, Agents can seamlessly forward calls to any number of their choosing. To enable Call Forwarding, an agent must:
1. Navigate to the Settings on Conquer Voice
2. Enter the number they wish to have calls forwarded to
3. Click 'Save'
To disable Call Forwarding, the agent should click on the Call Forward icon. The Call Forward icon will appear after an agent has entered a number in Conquer Voice in the "Forward Calls to" field. If the Call Forwarded icon is green all inbound calls will be forwarded regardless of whether or not you are Inbound Ready Enabled/Disabled or Connected/Disconnected to Conquer Voice.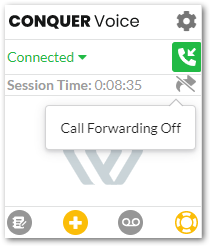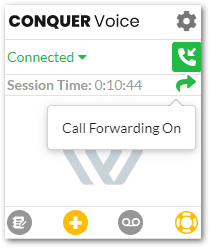 Note: When you enable Call Forwarding, all inbound calls to your direct line will be forwarded immediately to your Call Forwarding destination. They will not offer within Conquer Voice first. In addition, only calls to your direct line will be forwarded. Calls to Group queues that you are part of will offer to Agents who are online and available.
Call Forwarding on Conquer Voice does not currently support Call Dispositions. However, when an agent answers a call that has been forwarded to their mobile number, the Call Disposition field will log as "Call Forward Answered." Similarly, if an agent misses a call that was forwarded to their alternative phone, the Call Disposition field will log as "Call Forward Missed" on the DSA. The Agent will need to manually link the DSA to the appropriate record. The answered and missed call dispositions are only available for customers who are using DSAs on the Enterprise Package. The Inbound DID receiving the Call Forwarded call must have a DNIS banner configured for the Conquer Voice Softphone. If it does not, a task will not be logged at the completion of the call.

Agents will not be able to use Call Recordings in conjunction with Call Forwarding at this time. For customers on the standard package, logging of dispositions for Forwarded Calls is not yet available.
Getting started with Call Forwarding is easy. To enable Call Forwarding on your CRM instance, please contact your Customer Success Manager (CSM). After Call Forwarding has been turned on for your CRM instance, your CRM Administrator will need to navigate to DS Management > Global Settings and click on the Call Forwarding option.