Overview
Once you authenticate with your corporate email address, you can send email messages from within the Salesforce platform using highly customizable templates to ensure high-value messaging every time.
Conquer Email is accessed either through the Docked Email Composer or on the individual Salesforce Record Lead, Contact, Opportunity, or Account.  Where Conquer email shows up depends on the settings configured by your company's administrator.
Docked Email Composer
The Docked Email Composer is helpful when working in bulk in Cadence Utilities. Instead of having to navigate to each individual record to send an email using the Email Component, the docked composer pops up on the right side of your Salesforce screen wherever you are by clicking a Cadence Member's email address.
Note: Docked Email Composer availability is set in Conquer Cadence Custom Settings.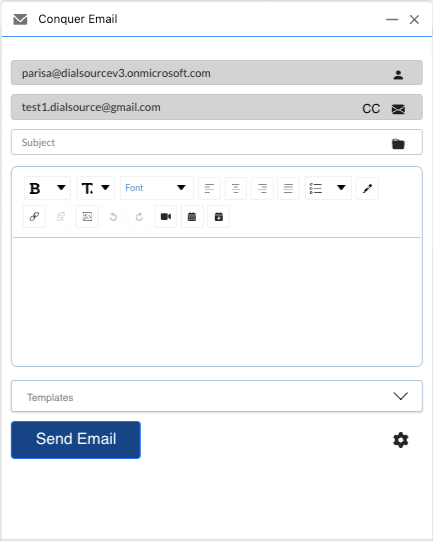 Email Component on Salesforce Record
The Email Component can be added to a Salesforce object's layout page so that you are able to compose an email immediately while having all the record's information and detail right in front of you.
Note: The Email Component is configured by following our Conquer Email Component guide.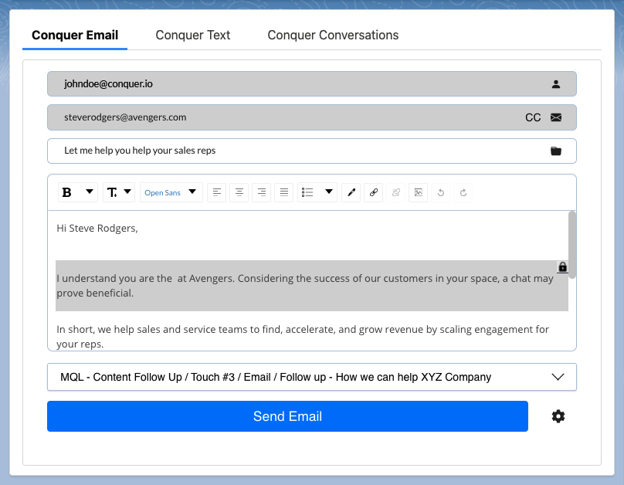 In Conquer Email, users can:
Note: Due to Outlook API limits, the maximum supported file size for attachments with an Outlook email address is less than 3MB.