6 Dashboards for Conquer Cadence are comprised of 27 Reports in 10 Report Types. These reports and dashboards track user adoption, performance, success, authorization, and adherence, as well as reports designed to to give individual reps an overview of their progress. If you would like to change the reports, the best practice would be to clone then modify so that the original reports and dashboards would still be kept intact.
Note: You will need to share the folders for the reports and dashboards to appropriate groups. Make sure 'Conquer Rep View' dashboard is configured to be viewed as the current user. Please contact your Customer Success Manager for more information.
Conquer Cadence Adherence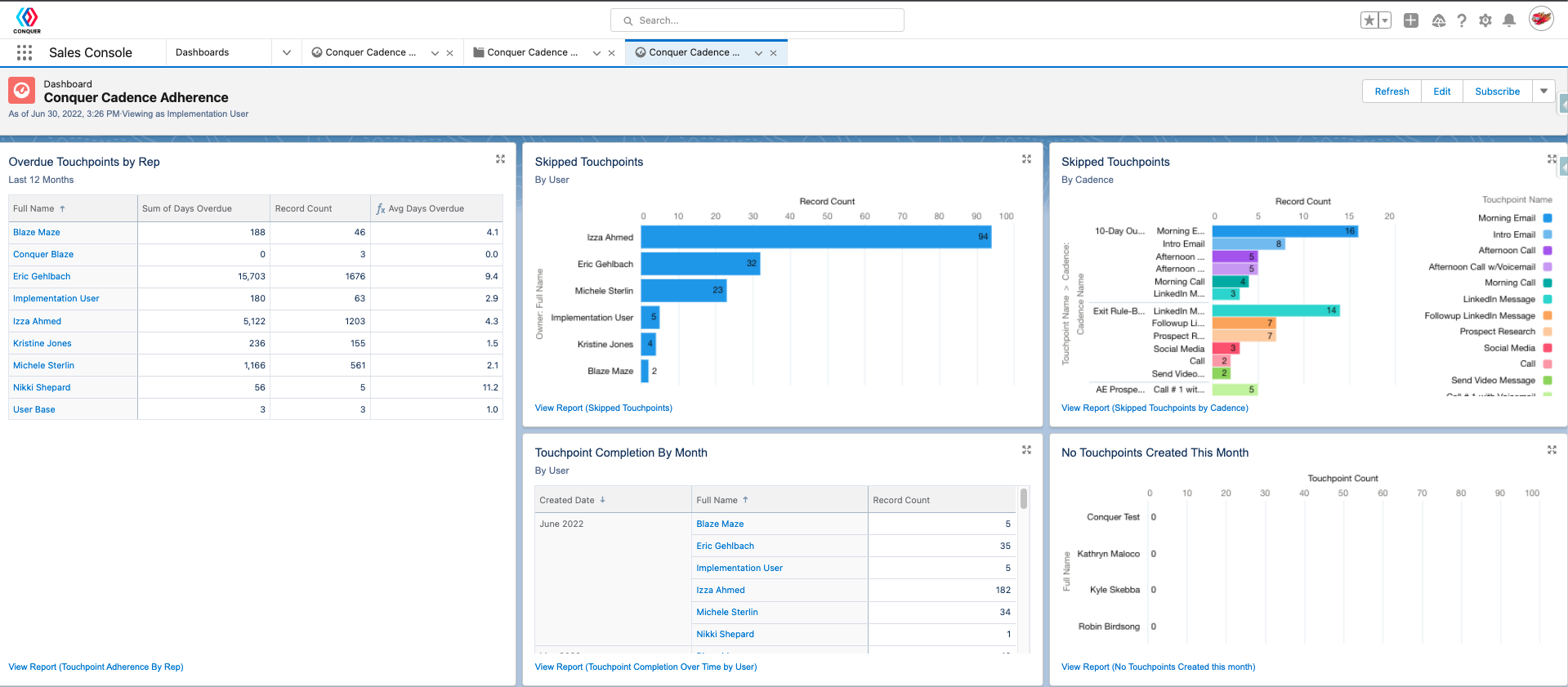 Touchpoint Adherence by Rep - Report shows how many days you have been overdue as well as the average amount that you are overdue.
Skipped Touchpoints - Shows how many skipped touchpoints a user has all time to see if there are any spikes in skipping touchpoints.
Skipped Touchpoints by Cadence - Shows how many touchpoints are skipped by cadence.
Touchpoint Completion over time by user - Shows a monthly view of how many touchpoints are being completed.
No Touchpoints Created this Month - Shows when a user has not completed a touchpoints this month.
Conquer Cadence Adoption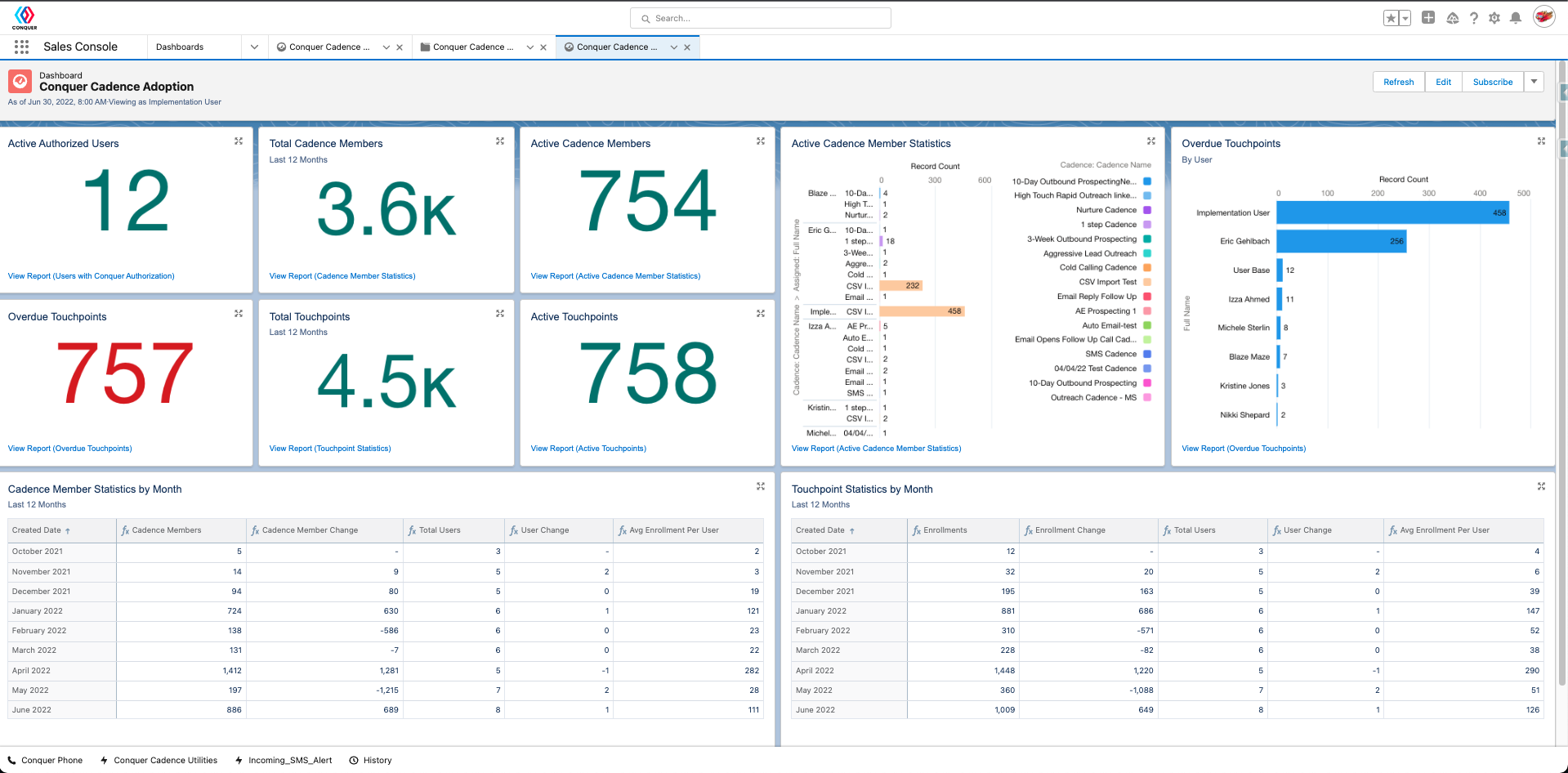 Users with Conquer Authorization - Custom Report Type to get additional user details. This report is cross joined to the conquer API token table which is used to show if someone is authorized for conquer.

Cadence Member Statistics - Used to show historical trending of Cadence Member Creation for rolling 12 months.
Active Cadence Member Statistics - Used to show active cadence member information.
Overdue Touchpoints - Used to show overdue open touchpoints and formula to show how many days they are overdue.
Touchpoint Statistics - Used to show touchpoint creation trends over time.
Active Touchpoints - Used to show all active touchpoints in the org
Conquer Cadence Authorization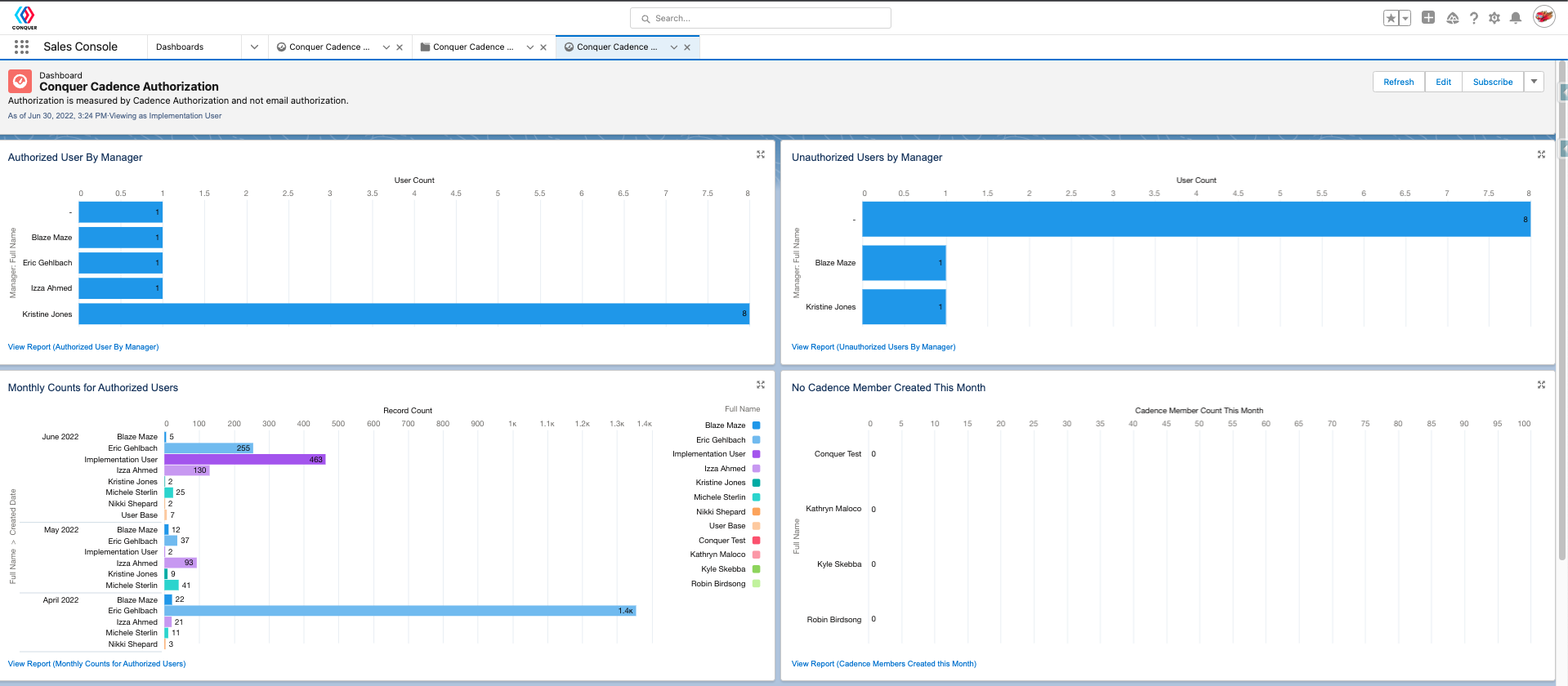 Authorized User By Manager - Shows all authorized users grouped by manager.
Unauthorized Users By Manager - Shows all unauthorized users grouped by manager.
Monthly Counts for Authorized Users - Summarize Cadence Member creation counts by month.
Cadence Members Created this Month - Used to show when someone has not created a cadence member this month.
Cadence Member Counts for Authed Users - Total Cadence Member created counts by user.
Conquer Cadence Performance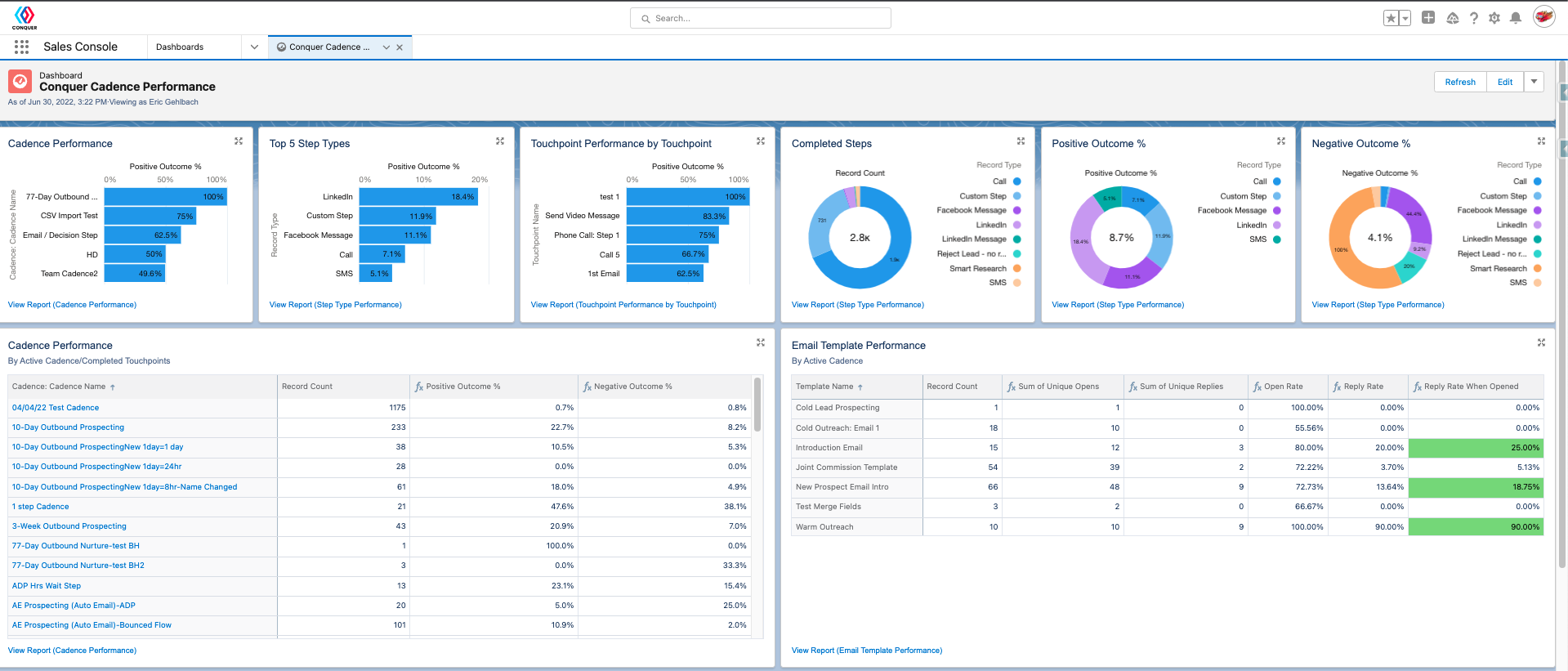 Cadence Performance - Touchpoints grouped by Cadence.

Step Type Performance - Touchpoints grouped by record type.

Touchpoint Performance By Touchpoint - Touchpoint grouped by touchpoint.

Email Template Performance - Calculating different metrics such as Reply Rate, Open Rate, Reply Rate when opened.

Last Touchpoint Completed Before Exit - Filtered to show truly removed touchpoints by cadence so we can see what our most successful steps are. Currently we have an issue with how this is displayed. You cannot add "Removed" which is a text box to a row level formula and we need that value to correctly assign values.

Activity Prior to Exiting Cadence - Using a formula to get a number value of the amount of exited touchpoint records then using that to give the average amount of touchpoints/cadence members it takes to get an exit.

Conquer Cadence Rep View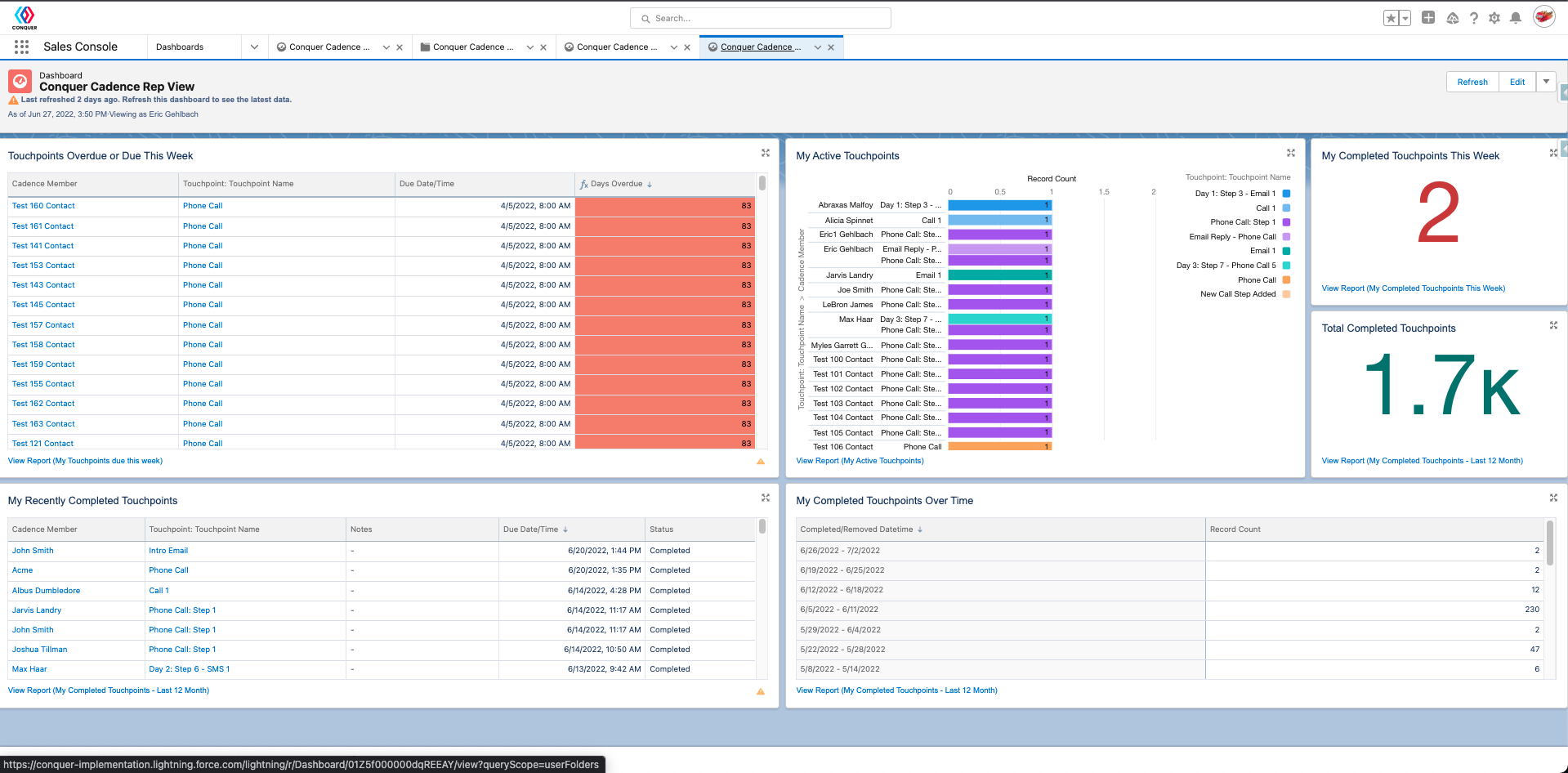 My Touchpoints Due this week - This is a rep level view that will show my touchpoints overdue and due this week.

My Active Touchpoints - Shows all of my Active Touchpoints.

My Completed Touchpoints This week - Shows all of my completed touchpoints this week.

My Completed Touchpoints - Last 12 Month - Shows all of my completed touchpoints in the last 12 months.

Conquer Cadence Success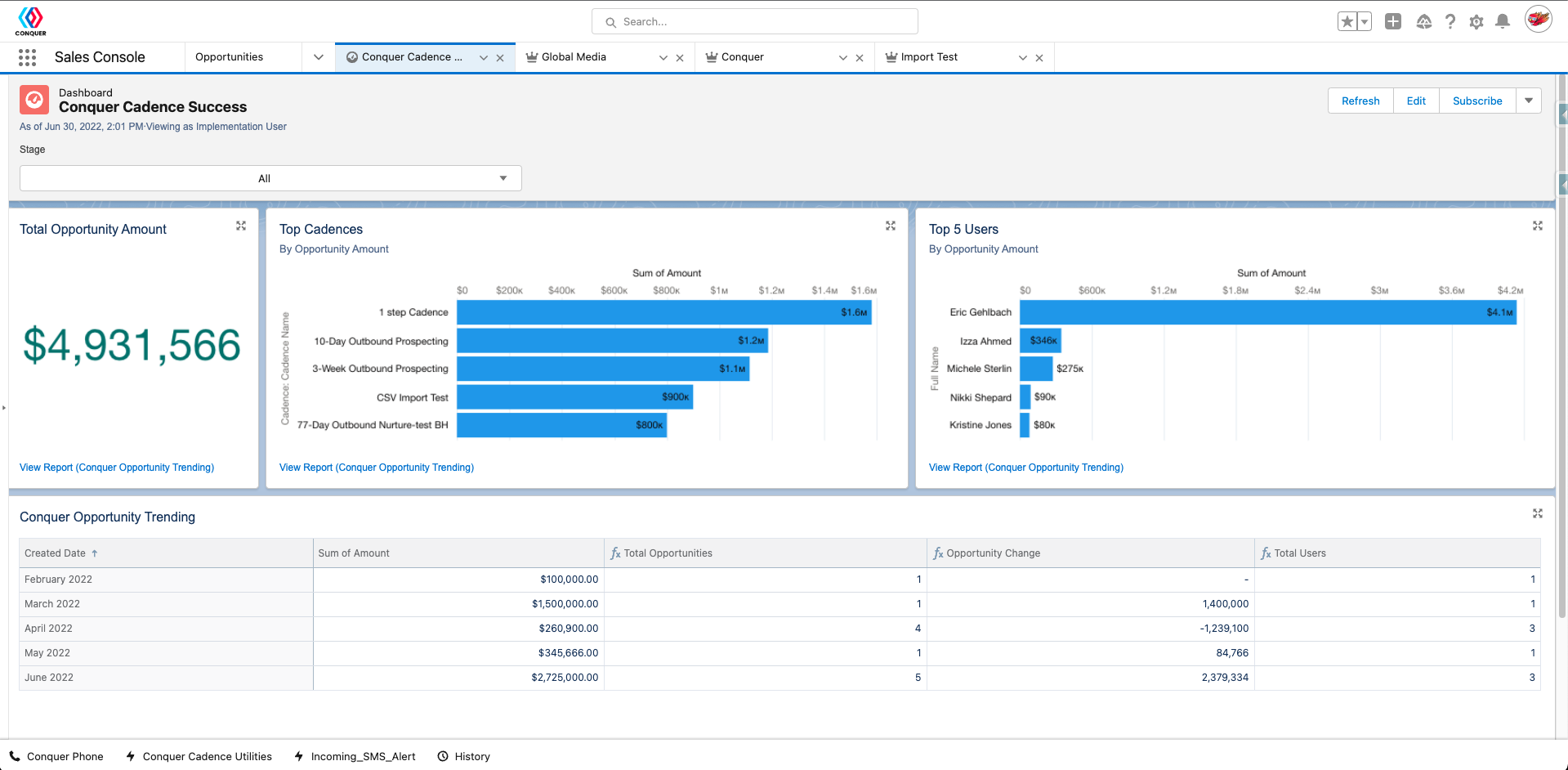 Conquer Opportunity Trending - Used to slice up opportunities related to conquer via the cadence member.

Note: In order to create these dashboards the following Report types were added.
| | |
| --- | --- |
| Report Type | API NAME |
| Conquer Users with Details | Conquer_Users_with_Conquer_Authorization |
| Conquer Users with Cadence Members | Conquer_Users_With_Cadence_Members |
| Conquer Users With Touchpoints | Users_With_Touchpoints |
| Conquer Users with Conversations with Touchpoints | Conquer_Users_with_Conversations_with_Touchpoints |
| Conquer Users with Touchpoints with Cadence Member | Conquer_Users_with_Touchpoints_with_Cadence_Member |
| Conquer Users with Cadence Member with Touchpoints | Conquer_Users_with_Cadence_Member_with_Touchpoints |
| Conquer Opportunities with Cadence Members | Conquer_Opportunities_with_Cadence_Members |
| Conquer Users with or without Touchpoints | Conquer_Users_with_or_without_Touchpoints |
| Conquer Users with or without Cadence Members | Conquer_Users_with_or_without_Cadence_Members |