To view all of the touchpoint activity related to an object within cadences, navigate to Cadence Actions > Cadence History.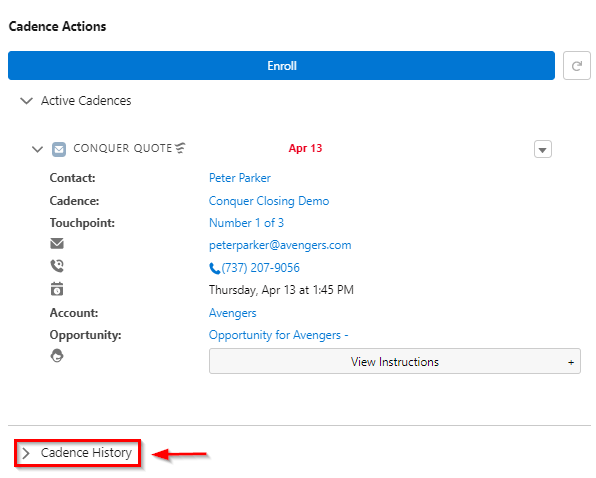 To view Cadence History, navigate to the Cadence Actions component on a record page in Salesforce. Click on the arrow to the left side of Cadence History. This will expand the Cadence History panel. You will see a list of all the cadences that the record was previously enrolled in along with the details listed in the capabilities section above. If a record was enrolled in the same Cadence multiple times, an entry will be present for each instance the record was enrolled in the Cadence.
Inside Cadence History, users can view:
Cadences that an object was previously enrolled in

When the record was removed from the cadence

When the record was removed from a touchpoint in a cadence

When a touchpoint has been completed for an object in a cadence

Touchpoints that were completed or removed,

the number of email opens

The number of email replies

If a cadence is currently in progress

The number of touchpoints remaining
Note: The history shows instances of Cadences that have no open Touchpoints. If the record has open Touchpoints in a Cadence, that Cadence will not be displayed in Cadence history.