If your administrator has enabled Missed Call Logging in Conquer Settings, you can take advantage of seeing information pertaining to inbound calls which you have missed or not answered.
If you miss an inbound call (i.e. are offered an Inbound call but do not answer it), your History subtab will give you an indication of the number of calls which you have missed. The indicator will be in red. Click the number to dismiss it. You might also be automatically set to Inbound Ready Off.
For more information on eligibility for receiving an inbound call to prevent missing a call, please refer to this article: Eligibility for Inbound Calls
If your organization has Direct Missed Call Logging (separate from regular missed call logging) enabled, you can also get a missed call notification when a call did not offer to you. This can happen if the call came in when you were not Inbound Ready, or the caller hung up during the Inbound Greeting.
| | |
| --- | --- |
| Standard Package: | Enterprise Package: |
Clicking on the History sub-tab will allow you to view your missed "orphan" call for the Inbound phone number.
Clicking the Missed Call (in place of the record's name that would appear for a completed call) will take you to the logged Task (for Standard Package) or DSA (for Enterprise Package) of the missed call. Direct dial missed calls will be logged as missed regardless of if the agent is connected to Conquer or Inbound Ready.
Note: If an agent declines a direct dial inbound call, the call won't be logged as missed. Also, if an offer is made to a queue and not answered it will be logged as missed. If an offer can not be made to a queue (because no agents are online or available that are part of the queue) no missed call will be logged and the call will rollover to VM.
If you would like to get rid of the missed call notification, simply click on the history tab in the dialer.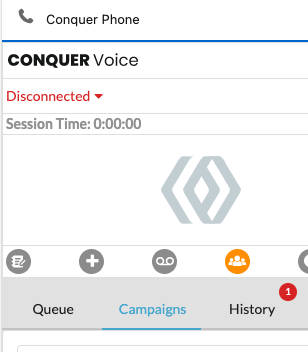 Task Logging for Missed Calls
As with Missed Call Notifications, your Salesforce Admin will need to have Missed Call Logging enabled in order for you to use this feature.
By clicking on the Missed Call in your History sub-tab, you can bring up and view the task created which represents your missed call.
For any missed call you receive (linked or otherwise), you will be able to return the call just by clicking the phone number within the history tab.
In the Standard Package, missed calls will be logged to the task under the Subject and Comments field. The phone number will display in the Comments field of the task.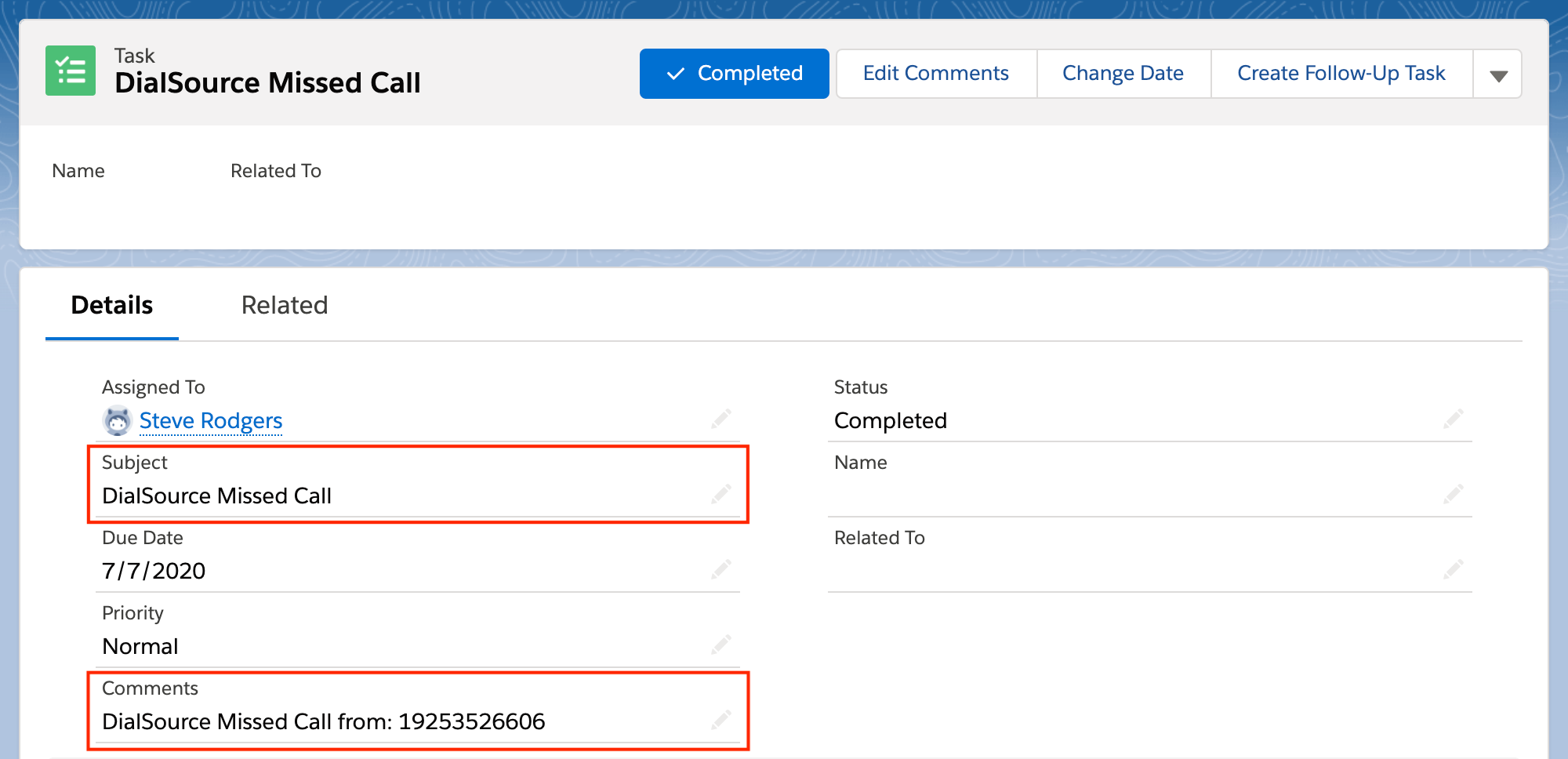 In the Enterprise Package, missed calls will be logged to the DSA (DialSource Action Object) under Logged Call Name, DialSource Session, Inbound DNIS, Inbound DNIS Name, Subject, and Phone fields.