Typically, if you receive a Do Not Call message, the Salesforce record is marked "Do Not Call" and the option to respect Salesforce Do Not Call in Conquer's Global Settings has been turned on.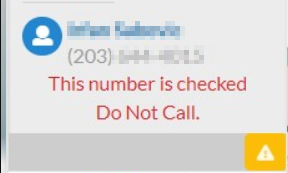 However, there can be a few situations that cause the where the message appears when it shouldn't:
Missing Permissions - In this case, you don't have the correct permissions assigned to your User in Salesforce. You will need to contact your system administrator at your company to ensure the correct permission set gets assigned to you. This is most common for new users who were just set up recently. If you've been using the system for a while and are only seeing this for the first time, this probably doesn't apply to you unless you recently changed roles at your company.
Expired Salesforce session - An expired session can occur if you have a window/tab of Salesforce open that has been inactive for too long (typically around 2 hours). If this occurs, close all tabs and windows except for one. Then log out of Salesforce and log back in. Then see if you are able to call the number afterwards.
Corrupted cache and cookies - If the above suggestion does not work, we recommend clearing your cache and cookies. Here is the process to do so:
- At the top right, click More

.
- Click

More tools >

Clear browsing data.
- At the top, choose a time range. To delete everything, select

All time.
- Next to "Cookies and other site data" and "Cached images and files," check the boxes.
- Click

Clear data.