Is the Username and Password up-to-date for your Configuration Account?
Your Configuration Account's Username and Password must be updated every time the Salesforce login has changed. If the Configuration Account's Username and Password isn't up-to-date, then your Call List/Campaign will not automatically refresh.
To ensure your Configuration Account is up-to-date:
Navigate to the DS Management Tab and click on Settings (gear) Icon. Scroll to Configuration Account section and locate "Good" or "Invalid Login" status in the right corner. If status is "Invalid Login", then enter the most up-to-date Username and Password and click on the Update button: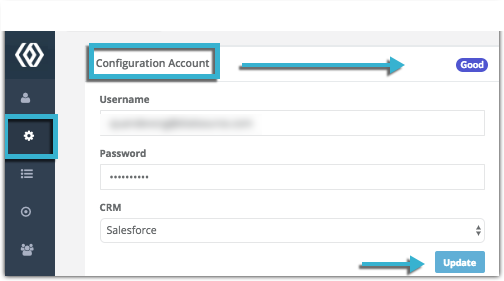 Is Refresh Interval time properly configured?
Verify that your Refresh Interval is set accordingly. The campaigns will automatically refresh every time the Refresh Interval elapses.
To configure Refresh Interval Time:
Navigate to the DS Management Tab and click on the Settings (gear) Icon. Scroll to Campaign Refresh section and choose the appropriate Refresh Interval then click the Refresh All button:
Note: The "Default" picklist value will default to the Global Default Campaign Refresh Interval