Some Conquer settings can be turned on or off from Setup > Custom Settings > Manage DialSource Denali Settings.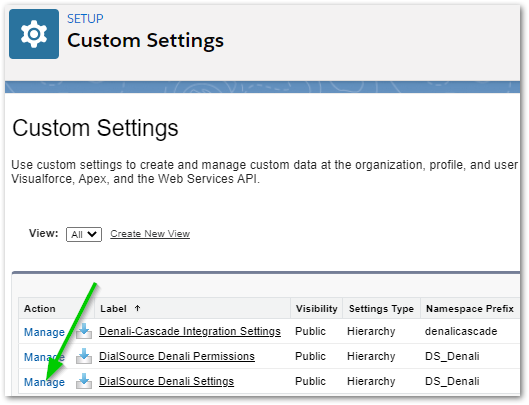 Then you can click "Edit" and select or unselect Denali Settings. For the most consistent experience, we recommend setting Organization Wide Defaults so that all users will have the same features applied, but your use case may vary.

There are five settings:
Override Task Trigger - If Checked, the DialSource trigger that is used to update fields on the parent object of logged calls will not be used.
Relate DialSource Action to Task (Enterprise Package Only) - Logs a Task in addition to the DialSource Action.
Update Account Disposition Field - Updates the disposition fields on the Account when the call is made on a Contact, Opportunity or Case.
Remove Notes From Task Subject - When this and Relate DialSource Action to Task are checked, Notes are removed from the DialSource Activity subject line and will show only the Disposition name (added to Standard package in version 12.31s) This feature does not require any additional features to be enabled in the Standard package.
Close Open Tasks - If a call is placed from a Task, the Task will automatically be marked as complete. (added in package 12.31s and 12.27e)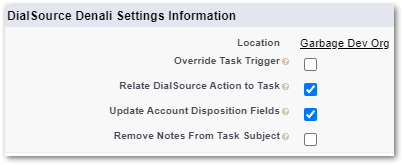 In this example, the "Relate DialSource Action to Task" and "Update Account Disposition Fields" options have been selected for the Organization-Wide Defaults. This organization is also in need of a package update!