To make a user available to conference, you'll need to add the user to the Salesforce Public Group named "DSQuickDial." Navigate to Setup → Public Groups and edit the DSQuickDial Group.
If a Public Group DSQuickDial doesn't already exist in your Salesforce org, you'll need to create the group yourself. So long as the name matches exactly - DSQuickDial - it'll work without issue.

Search for Users to add to the group. The users will need their phone number listed in the Phone field of their Salesforce user profile.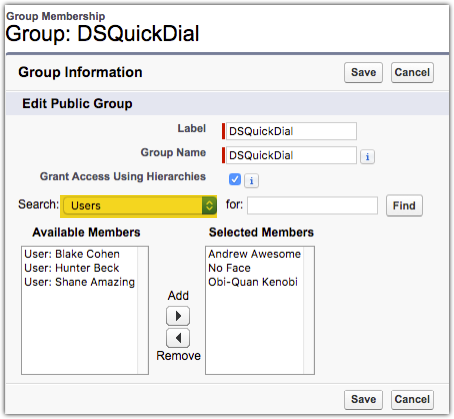 To add a main line rather than a specific user, you'll need to create a user for that line in Salesforce with a license that can be added to Public Groups. For this reason, unfortunately Chatter Free licenses won't work for this purpose. However, Force.com Free licenses will work. If you don't currently have Force.com Free licenses available in your org, you'll need to contact your Salesforce Account Executive.
To understand how DSQuickDial works:
DSQuickDial supports adding specific Users, Roles, or Public Groups. It does not support Subordinates, or Groups that contain additional Groups within them. In cases where there is a Public Group that contains both individual Users and another Public Group, the individual Users will be available for conferencing, but the sub-group will not. For instance, if DSQuickDial contains 5 Users and one public group containing another 70 Users, the 5 that have been individually added will be available but the other 70 will not.
Users must have a phone number populated in the standard Phone field on their User detail. If they do not have a phone number but are added to DSQuickDial, then they will still appear on the list of available names to conference in, but conferencing them won't work since there is no phone number associated with their User.