Once on a call, all functions of the call such as putting the prospect on hold, conferencing another caller in, or hanging up should be done through Conquer Voice.
Note: Hanging up the phone you're using to connect to Conquer Voice at the end of a call will terminate your connection to Conquer Voice.
Here's an overview of the call controls: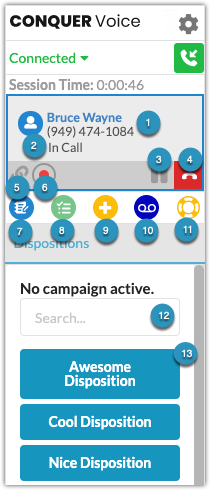 1. Displays the prospect's name and number
2. Displays the status of the current call
3. Places the current call on hold
4. Hangs up the current call
5. Link the call to the record you are currently viewing. This associates the call with this record instead of a different record the call was placed from (for outbound calls) or an unknown record (for some inbound calls).
6. Pause or resume the call recording. The dot in the center will flash when the call is recording. Some organizations may have disabled the ability to pause the recording.
7. Opens the Notes box
8. Creates a Task on the active record
9. Brings up the menu to conference in a third person for conference call or warm transfer. Clicking this button automatically places the call on hold.
10. Leave an automated voicemail message on the prospect's answering machine
11. Submit a support request
12. Filter the Dispositions by name
13. Examples of some Dispositions. Yours will be custom to your process.