Many Conquer Voice Inbound users need to be able to take a call no matter what they're doing at the time. This may involve working out of tabs that don't include the CTI panel, such as Reports, or even working outside of Salesforce. Worry not - so long as you have at least one tab open that includes the CTI panel with Conquer Voice fully loaded, you'll be able to receive calls no matter what you're doing at the time.

To fully take advantage of this, you'll want to enable browser notifications within Chrome. To do this, navigate to chrome://settings/content/notifications (you may need to copy/paste that info your browser) and scroll to the "Allow" section. Click "Add" and enter "[*.]force.com:443" on the line, then click the "Add" button to save: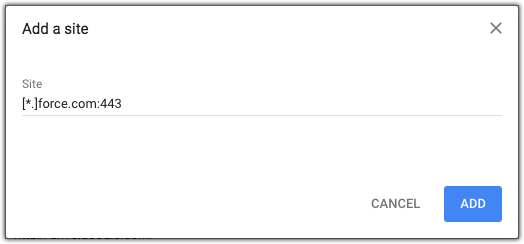 Once you've saved your entry, it will appear under the "Allow" section:

Be sure to remove any previous Salesforce entries under the "Block" section as this may interfere with you receiving the notifications:

To remove, click the three dots to the right of the entry and select "Remove":

Congratulations! You'll now be able to receive notifications from Chrome no matter where you're working.