During the process of implementing Conquer into your Salesforce environment, it's likely that you started by testing the functionality in a CRM Sandbox.
from top to bottom - the dialer, dispositions, field updates, task creation, etc., the next phase of deployment begins: moving all of these customizations to your Production instance for your agents to begin using. This guide is intended for an audience of (or will require the assistance of) Salesforce Administrators, and will walk you through the recommended process for doing just that.
Installing the Conquer Package
You have already done this in your Sandbox instance, but you'll need to do the same for Production. Start by contacting a Customer Success Manager, or Technical Support. They will provide you with a link to the most current Managed Package, as well as the Username and Password you will need to deploy it.
They will also need to enable your Production Org on the Conquer back end in order for you to access the service.
Adding the Conquer IP Addresses to Network Access
Unfortunately, Network Access IP Addresses added in a Sandbox environment are not currently available to add in Salesforce as a Change Set Component, so they will need to be added manually in the Production instance.
Navigate to Set Up > Network Access > and click New to add the following:
| | | |
| --- | --- | --- |
| 104.130.231.244 | 172.99.120.52 | 162.209.114.154 |
| 146.20.65.43 | 104.130.231.224 | 198.61.251.171 |
| 162.242.211.242 | 104.239.170.30 | 23.253.147.3 |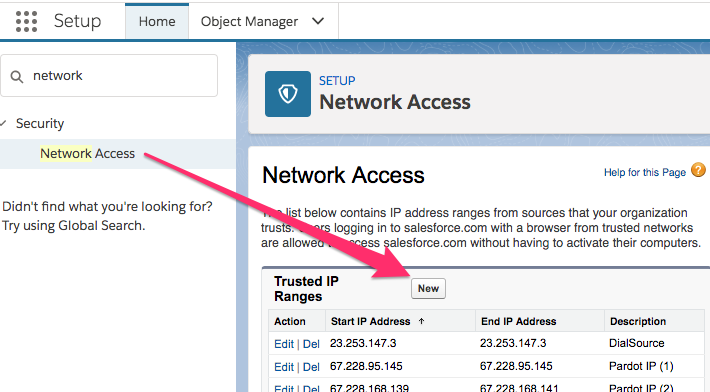 Please note that the Start and End IP address will be the same value for each listed.
Creating the Outbound Change Set
Navigate to Set Up > Outbound Change Sets to add the following components:
Component Type: Call Center


Component Name(s): DIalSource, DialSource Lightning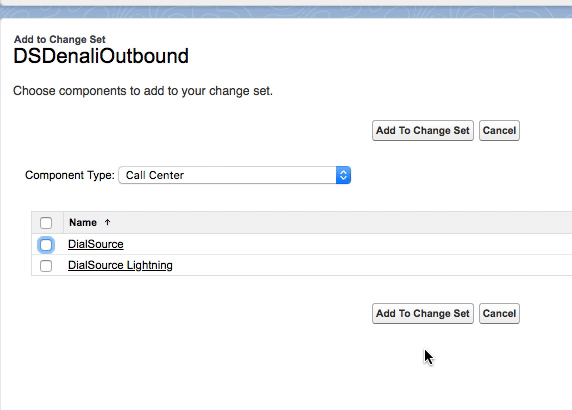 Component Type: Groups


Component Name(s): DSQuickDial


Component Type: Page Layouts


Component Name(s): Task Layout, Leads Layout, Contacts Layout

Note: If the Layout you created on these objects for Conquer is not the standard Page Layout, please add the one you have customized for Conquer Voice. Add any other object page layouts you have configured for Conquer Voice as well (e.g. Accounts, Cases)


Component Type: Flow Definition


Note: Despite the name, this is where you will add the various Processes built in Process Builder to the Change Set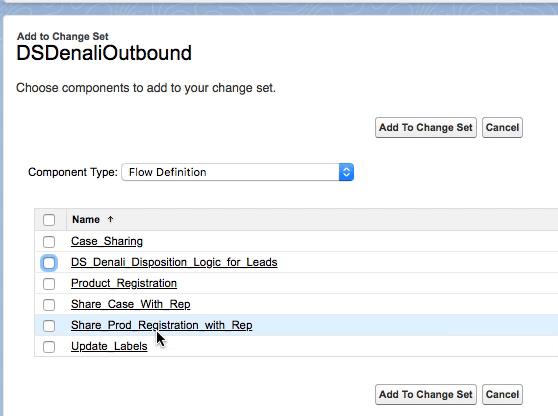 Uploading & Deploying the Change Set
Once you are ready to push the Outbound Change Set to your Production instance, navigate to the change set, click "Upload", and then choose Production organization as the Destination.
Now, log into your Production account. Head to Set Up > Inbound Change Sets and click the set you've just created. Click Deploy, and assuming there are no Validation Errors, the Change Set will propagate across the account.

Applying the Finishing Touches
As a final step, you will now want to reconfigure Conquer Voice-specific (i.e. non Salesforce) features that may have been done in your Sandbox instance.

These include, but are not limited to:
Dispositions (found in DS Admin > Disposition Manager)


Configuration User (found in DS Management > Settings)


Conquer Voice Campaigns (found in DS Admin > Campaign Manager) and their accompanying Salesforce source Reports
Agent Groups (found in DS Management > Agent Groups)


Disposition Groups (found in DS Management > Settings) and their accompanying Salesforce source Reports
For a more complete list, please refer to our Conquer Voice for Salesforce Admin Guide.