If you've gotten a notification from a member of the Support Team that your Configuration Account/API User has become un-synced, but you're not sure what to do next, this guide is for you!
The most likely cause of your account becoming un-synced is a change to the account's password. If the password hasn't changed recently, you should check the account's login history for any failed login attempts. It's also possible, depending on your orgs' rules, that the password may have expired and needs to be reset.
Regardless of the cause, to re-sync your account, navigate to the DS Management tab and click the Settings (gear) icon. Enter the updated credentials in the "Configuration Account" section and click the "Update" button. The message in the top right should change from "Invalid Login" to "Good":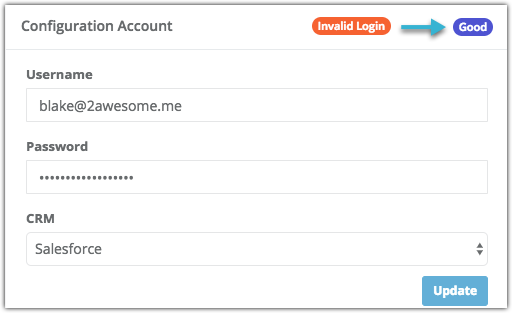 Note: Multi-Factor Authentication needs to be turned off for API Logins, otherwise our configuration user logins will fail.
For additional information on how to administer Conquer, check out our Conquer Admin Guide!