Good afternoon, everyone. This release contains two exciting new features as well as a solid collection of bugfixes and quality-of-life improvements for our Salesforce clients. The new code is slated for deployment at 9pm Pacific time on November 15, 2021.
New Features
SHOTGUN RING: This feature adds an additional queue ring option to all clients on our new Inbound system, within Call Flows. While this feature exists within the Call Flows menu, it can also be configured for a queue that is not part of a Call Flow.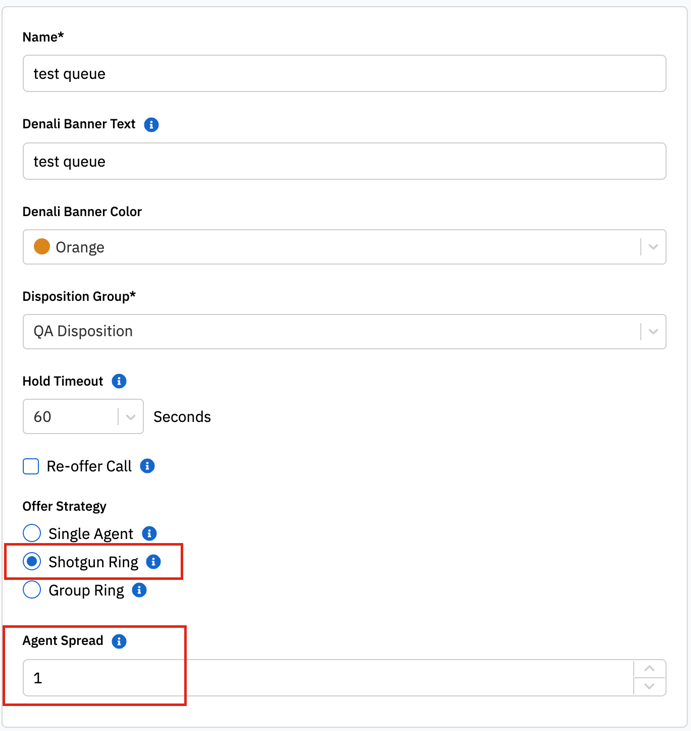 Prior to this release, the ring options were Single Agent (one agent at a time) or Group Ring (all available agents who belong to the group at once). Shotgun Ring offers an intermediate option which allows you to ring segments of agents who belong to the group at the same time (up to 15). Agents will be prioritized based on availability and idle time within the queue, as they would be with single agent ring.
As of the release being live, this feature is available to all clients with Call Flows enabled for their organization.
Impacts: organizations with Call Flows active
CRM: Salesforce
CAMPAIGN SKILL GROUPS: This feature adds an additional option to Campaigns, allowing records to be served according to Skill Groups that have been configured for Call Flows.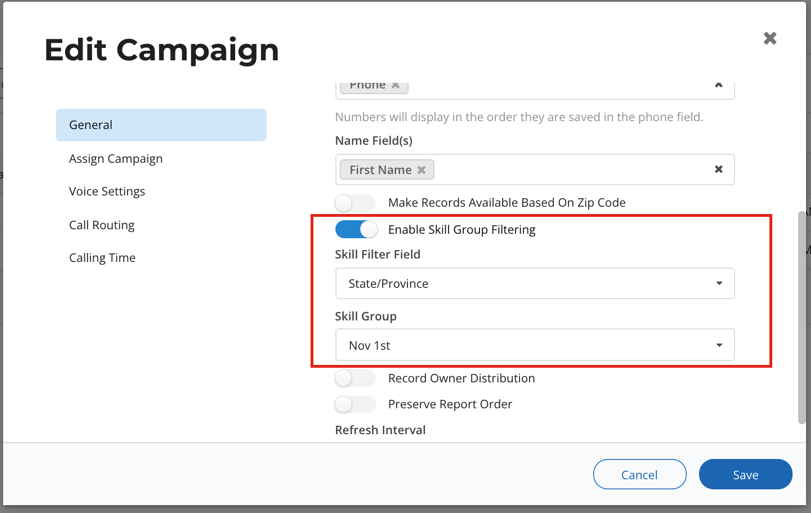 Skill based routing through Call Flows allows you to route inbound calls to agents based on their abilities or qualifications. With Campaign Skill Groups, we're extending that same functionality to outbound calls through Campaigns and Campaign Schedules.
Note: This feature requires Skill Groups to be fully configured on both the Campaign Schedule (if in use) and all Campaigns included in the Schedule. If no Campaign Schedule is in use, then the configuration is done at the Campaign level alone. In addition, the corresponding field must be included on the source report AND each record included on the report must have that field populated with matching data. If ANY records in the source report do not have data in this field, it will cause a refresh error for the Campaign and that Campaign will not serve records. If you have questions, please contact your Customer Success Manager.
This feature must be enabled on a per-account level by Conquer Development.
Impacts: organizations using Campaigns, and Skill Groups with Call Flows
CRM: Salesforce
Fixes
[FIX] Fixed a freezing bug that occurred when editing time blocks.
Impacts: organizations using Call Flows
CRM: Salesforce
[FIX] Fixed a bug where previous step text on decision points did not render properly.
Impacts: Organizations using Cadence
CRM: Salesforce
[FIX] Fixed a bug with days not appearing on wait steps.
Impacts: Organizations using Cadence
CRM: Salesforce
[FIX] Fixed a bug with warnings showing after publishing a cadence.
Impacts: Organizations using Cadence
CRM: Salesforce
[FIX] Fixed CRM query validation bugs which sometimes lead to freezing.
Impacts: Organizations using Call Flows
CRM: Salesforce
[FIX] Fixed a bug that caused Cadence Flow Builder to white screen when editing Cadences
Impacts: Organizations using Cadence
CRM: Salesforce
Changes
[CHANGES] Queues Form for Call Flows is now flattened instead of a wizard.
Impacts: Organizations using Call Flows
CRM: Salesforce
[CHANGES] Added Layouts section - Hidden by feature flag for now.
Impacts: Organizations using Cadence
CRM: Salesforce
[CHANGES] Added the ability to filter out Inactive/Active Cadences on the status Column in the Workspace app.
Impacts: Organizations using Cadence
CRM: Salesforce