Performing Custom Touchpoints in a cadence utilizes social media, text messaging, or other Salesforce integrations to make flexible, customizable engagements with customers and prospects.
To perform a Custom Touchpoint, review any details in the touchpoint instructions that your manager may have left.
Proceed with performing the touchpoint with your designated channel.
Once you have completed the touchpoint, navigate to the Actions Dropdown in Cadence Utilities or Cadence Actions, and select Complete Touchpoint.
Cadence Actions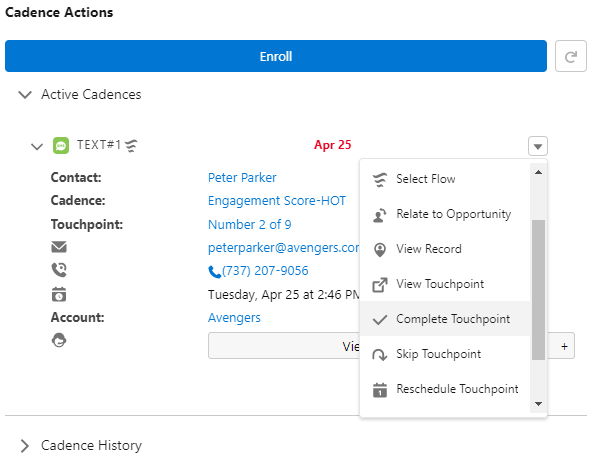 Cadence Utilities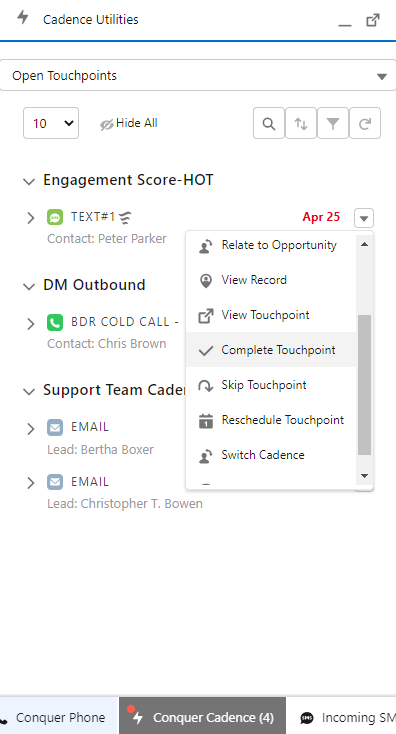 Custom Touchpoints will depend on the touchpoint details outlined by your Cadence manager. Some examples of a Custom Touchpoint may include:
Sending a LinkedIn Connection Request

Sending a LinkedIn Message

Sending a text message

Sending direct mail to a customer

Sending a direct message on Facebook, Twitter, or Instagram

Sending a gift to a prospect via Sendoso

...and much more!
Note: By default, Custom touchpoints do not have ability to automatically advance in a cadence. They must be done manually by clicking Complete Touchpoint.
Touchpoint advancement can be set up through using the Salesforce Process Builder or other automation tools. Contact your Salesforce administrator for assistance.