From time to time, you may come across this message in CONQUER Voice.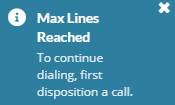 Here are the steps to troubleshoot the Max Lines Reached message:
First, make sure that the call still showing in the dialer is linked to a record. See our Call Linking article for more information. If it isn't already linked, then go ahead and link it up.
Second, choose a disposition for the call. See our Disposition article for more information.
In the event that this message continues to show up after performing the above steps, or if it shows up even when there isn't a call visible to disposition, please contact our Support team via the Report Issue button in the softphone or contact them directly at support@conquer.io.