It's a good time to look over some best practices to manage Denali while being out of office, for a holiday season, paid time off, or any other reason an agent might not be at their desk for a period of time.
For Agents
Recording an out of office voicemail greeting is a great way of letting people know that you won't be answering the phone. If you need a refresher on how to record a voicemail greeting, check out this article. Just remember, you have to be connected to Denali in order to record and listen to the recordings.
Also, you'll want to make sure to notify your manager the name of your out of office voicemail greeting so they can find and assign it.
At the same time, don't forget to turn off your Inbound Ready when you log out at the end of you last day before your vacation. This way your clients aren't waiting too long to leave you a message.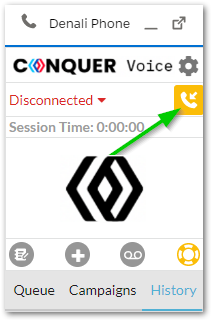 If you still want to receive calls while not being in the office, there is an option to turn on call forwarding. Details about this feature can be found in the following article: Call Forwarding. If this feature is not active for your organization, you can ask your manager about getting it enabled.
For Managers
When a user has recorded an out of office voicemail greetings, it can be assigned as the DIDs Inbound Recording. This can be done when opening the Options menu.
For DIDs that need coverage, failover groups can be set to make sure calls are not missed. Failover destination can also be either a manager or another agent who is providing coverage. This can be done when clicking "edit" for Failover Groups for the DID.
You could also consider using the Exclude Offline Agents setting for group DIDs where several agents in the group may be taking different days/times off. This setting can be toggled on and off for both the agent group and failover groups. If you decide to do this, you may want to consider extending the idle timeout since agents will need to be online all the time. And this also needs to be communicated to your agents since some of them might be used to using Conquer while being disconnected. They would have to get used to being connected to Denali while they are working.
If your agents want to be available to answer calls while not being in the office, consider enabling call forwarding for your org. To enable Call Forwarding on your CRM instance, please contact your Customer Success Manager (CSM). More information about this feature can be found in the following article: Call Forwarding.
Another thing to consider would be reducing the number of strikes before an agent is taken out of inbound ready so that agents who forget to toggle Inbound Ready off don't keep getting offers. If you don't normally use strikes, you can consider using them. This option can be found in the settings section of the Conquer Management tab.
As always, be sure to inform your users of any changes that you make so that they won't be surprised when things are suddenly a little bit different.
If you are interested to know more about these features, contact your CSM to learn more about how to best use these features to manage your individual use cases.
Happy holidays!