Conquer Voice Queues are similar to creating a personal Campaign, but only the Queue creator can access it.
To manage your Conquer Voice Queues, navigate to the Queues subtab of the "DS User" tab in your CRM. This subtab is indicated by the icon that looks like a numbered list. In this tab, you can create and manage your Queues.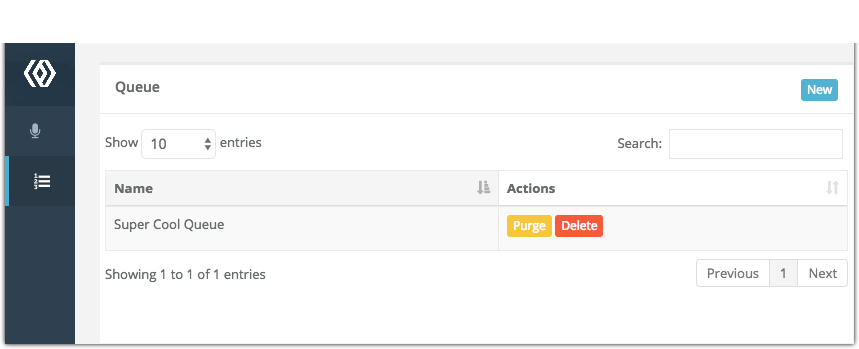 To create a new Queue, click the "New" button. A window will pop up to create the new Queue. Give your Queue a name and click "Add." The Queue will appear below.

To remove all records from a Queue, click the yellow "Purge" button. To delete a Queue, click the red "Delete" button.

To add records to a queue, you can use one of two methods:
From the record detail page, simply locate the "DS InstaQueue" button at the top and click the button. The record will be added to your selected Queue.

To add several records at a time from a list view, select the records you wish to add and click the "DS InstaQueue List" button. The selected records will be added to your selected Queue.
If the record has no phone number or an invalid number, it won't be added to the Queue.
Once you've created at least one Queue and added some records, follow these steps to call them: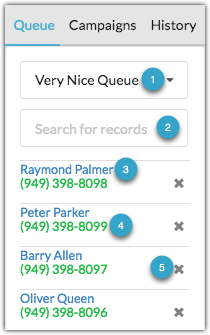 1. Select the Queue you wish to call from using the dropdown menu. If  you only have one Queue created, only one option will be available.
2. Use this text box to filter records in your queue by name.
3. Click the record's name to be taken to the record page in your CRM.
4. Click the record's phone number to place a call to that number. After you complete your call and select a Disposition, the record will automatically be removed from the Queue.
5. Click the X to remove the record from your Queue without calling them if you no longer need to call them.