Overview
Many Salesforce-based users will utilize a Conquer connected sandbox org for staging and testing before moving any changes over to a Production org where it might impact users' workflow and productivity.
Every few months, it is routine for many admins to refresh the Sandbox so that it has a more up to date copy of Production org metadata. Doing so, however, causes the Sandbox's Org ID to change as well, which has wide-reaching implications with regard to the local configuration of Conquer.
Conquer stores its application data outside of the client's Salesforce, and cross-references the org ID in order to pair it to a customer's SFDC instance -- this means that nearly everything involved in the set up of Conquer will be reconfigured. The purpose of this guide is to highlight the most important items a client should be aware of reconfiguring after the completion of a refresh.
Update Call URL path
As the refresh carries over metadata from the production org down to the sandbox, this means that the Call Center URL paths will also be copied over, which causes the Conquer Voice dialer not to render.
In order to update it to the sandbox instance's URL path, head to Set Up > Visualforce Pages.

If you are using Salesforce Lightning, look for the VF page named

dialsourceCallCenterLightning





If you are using Salesforce Classic, look for the VF page named

dialsourcePhone
Now, click the popout icon, which will open a new tab and navigate you to the VF page. Copy the URL that you find at the top of your browser.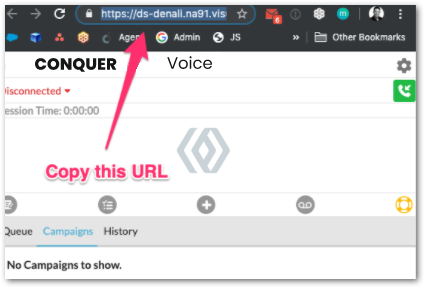 Finally, take this URL and navigate to Set Up > Call Centers and find the appropriate Call Center for your Salesforce org (for Classic → "DS Denali 2.0", for Lightning → "DS Denali Lightning 2.0") and click Edit.
In the URL path field, enter in the URL you have copied in your clipboard and hit Save.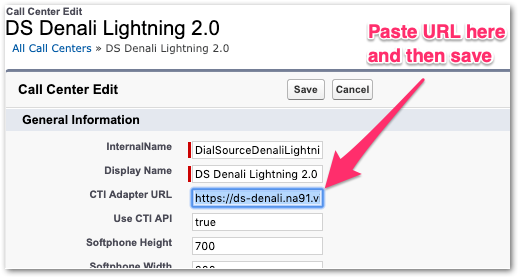 Controlled Features

Due to their potentially volatile nature for clients who have not been briefed on their possible implications, Conquer chooses to keep some features "controlled", meaning they need to be enabled on the Conquer back end before becoming available to the org. Any that you were using before, will all need to be re-enabled for the newly refreshed Sandbox.
Below is a brief description of some of the common Controlled Features your sandbox may have had enabled.
Dialpad

: Creates a 10 digit dial pad in the Conquer Voice Dialer under the "Add Call" menu to allow reps to dial numbers outside of CRM.



Call Waiting:

Allows reps to receive inbound phone call offers while already on an inbound or outbound call.



Regional ID:

Presents a caller ID with a local presence area code to the number dialed.



Double Linking:

Allows a rep to link a call to two records (i.e. an Opportunity and the Contact from it whom they dialed).



Unlinked Dispositions:

Allows a rep to select a disposition for an inbound call, even if they choose not to link the call to an existing record



Note: After the refresh is done, send our support team the new Sandbox AID (NOT the AID for your production org) and the name of the Sandbox so that everything can be configured on Conquer side.
DS Admin: Recording Redaction
Recording Redaction is a feature of Conquer Voice that allows users to change the settings for call recordings depending on the state that is being dialed in to (or in from) in order to meet that state's compliance laws. To find it, navigate to the DS Admin app, and click the circular icon.
Here, by state, you can choose whether to record the Agent, the Agent and the Lead, or No Recording for each state, and is separately configurable for inbound and outbound calls.
DS Admin: Dispositions
Post refresh, all Dispositions will be wiped from your Sandbox org. These will need to be added back into your org, with the following settings re-configured as well for each Disposition:

DNC Time: DNC, or "Do Not Call" time refers to an amount of time, in hours, during which this record will be suppressed from re-entering the Campaign in which they were last dispositioned until the DNC time expires.


Global DNC

: If set to True, the record dispositioned will be suppressed from

all

Campaigns, not just the one in which it was last dialed, until the DNC time expires.

Notes: When a disposition with Notes set to true is selected by an agent, a text box will pop up that prompts the agent to give some brief comments about the nature of the call. Highly recommended for any disposition that correlates to connecting and having a conversation with a prospect.


Allow Unlinked Disposition

: If your org previously had the "Unlinked Dispositions" controlled feature enabled, it will need to be re-enabled for the org with the new sandbox org ID. If this field is set to True for the disposition, it will be available to select for reps who are receiving calls but do not necessarily want to create a record for the call or link it to an existing record (example: spam or robocalls).
DS

Admin: Campaigns

In a full sandbox environment, Reports should be carried over from the Production account to the Sandbox account, in which case Conquer Voice Campaigns can be reconfigured using these reports as their basis. If not, the Reports will need to be recreated in Sandbox as they may have been wiped out by the refresh, and then created as Conquer Voice Campaigns.

For a full primer on creating and managing Conquer Voice Campaigns, please visit this section of our Admin guide.
DS

Management: Global Settings


Global Settings can be found by clicking the gear icon in the DS Management app. They are settings which will affect the entire Conquer instance, and must all be reconfigured post refresh.

Please refer to this article in our Basecamp that details comprehensively all of these features and their significance.
DS

Management: Reconfiguring Inbound Phone Numbers

If you are using the Conquer Voice Inbound suite and have phone numbers previously provisioned for your sandbox, they will need to be re-added to Conquer Voice in order to function. You can navigate to DS Management and click the Phone icon to reach this area. Hopefully you will have note of what these numbers are, but if not, please contact your CSM or Support.

For a thorough list of all parameters that can and should be configured for Inbound phone numbers (DIDs), please refer to this section of our Admin Guide in Basecamp.